March 12, 2018
In Step with Power Agent Larry Gardner
POWERFACT: Helping other people achieve THEIR goals will always help you achieve YOURS.
It's always a treat to learn from our Power Agents. They are some of the most generous people we know. Always willing to share their experience with other agents to help them grow their businesses. Larry Gardner is the perfect agent to spotlight for spring!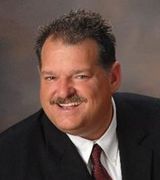 Q:  Larry, can you please tell our readers a little about yourself? 
A: I started my Real Estate career in 2004. As I shared at our event my past has had some hurdles to overcome.  I struggled with six years of active addiction that almost cost me my life.  I am grateful to be in recovery for 33 years and although this does not define me it helps me to have a deeper meaning of life on a daily basis.  I am a father of four wonderful children.  The youngest we adopted from foster care in 2005.  We have fostered over 20 other children in the past 15 years.  We are so blessed to have been used as a vessel of love for these families.  I truly enjoy helping families achieve such a wonderful goal of homeownership it really is big deal.  I believe if you try to do the right thing every day and treat others the way you want to be treated you will always win.
Q:  That's awesome Larry. You are a great connector of people – can you tell agents why that is SO important in our business? 
A: Real Estate is a people business.  I realize today we are quick to send a text or send an e-mail never lose the ability to talk to people.  One way to connect people is to find out what their goals and dreams are and help them achieve them.  I promise if you help others get to where they want to go you will get to where you want to go.
Q:  If you had to share two of your best marketing tips or tools — what would they be? 
A: I am a fan of personal notes.  This is a great way to show someone that they matter to you and they are appreciated.  By the way, personal notes are rarely thrown out.  I am a big fan of sending people flowers as well.  A couple of years ago I adopted another business professional's idea of sending flowers to all of my listing appointments (whether I get the listing or not) my note thanks them for inviting me into their home.  It truly helps to create an amazing connection.
Q: You've shared in the past the power and importance of the right training and coaching in terms of growing your business the right way — and I know Darryl's had a big impact on you there. Can you tell agents what training and coaching have done for you?
A: Coaching and training are key to keep expanding your comfort zone.  Accountability is a great tool to make sure you do what you say you are going to do.  Try to find an accountability partner that will keep you showing up even when you do not want to.
Q:  What is some of the best advice you would give to some of our newer agents who are just learning the ropes?
A: For the newer agents, be kind and gentle with yourselves.  Try to get a thick skin and be patient.  Go to your office and listen to the Top Producers on the phone.  Ask them to lunch and ask them if they will be willing to share some of their secrets to success. You'll be surprised how many will generously share. Again, be patient and remember only you know how new you are!
Q:  We're thrilled to be hosting the Quarterly Power Surge meetings with Power Agents on Long Island. Can you share your thoughts on the value and importance of this kind of ongoing training, brainstorming opportunities and networking?
A:  I would tell every agent on Long Island to take advantage of this new program Darryl is offering.  This will not only a great way to sharpen your skills all year round but also the networking opportunities will be endless.  The cost is minimal and almost too affordable.   I look forward to seeing my fellow agents in April.
Q:  Lastly, if agents want to send referrals your way – what's the best way to get in touch with you? 
A:  The best way to contact me is by downloading my mobile business card.  You can text larrylove (no space) to #85377.  You will have all of my contact information.
Thanks, so much Larry! You are awesome!
Our goal? Is to help you reach YOUR goals. We are passionate about helping agents reach their NEXT LEVEL of success. That's why we pour so much content, information, training, skill-builders, and marketing tools into our The Power Program®, and why we host an all-access Power Agent® call every month.  You'll find the login credentials on our Home Page.  This program is designed to take agents at any level of their business and help them double their income in a year's time. Why? Because that significantly changes their lives, their businesses, and their relationships. That's a whole lot to smile about!
The best thing is — you can try it for FREE for 30-days. No contract, no stress. Just all-access to amazing tools that can help you grow. Get started today — learn how here. or contact my team at 800) 395-3905.