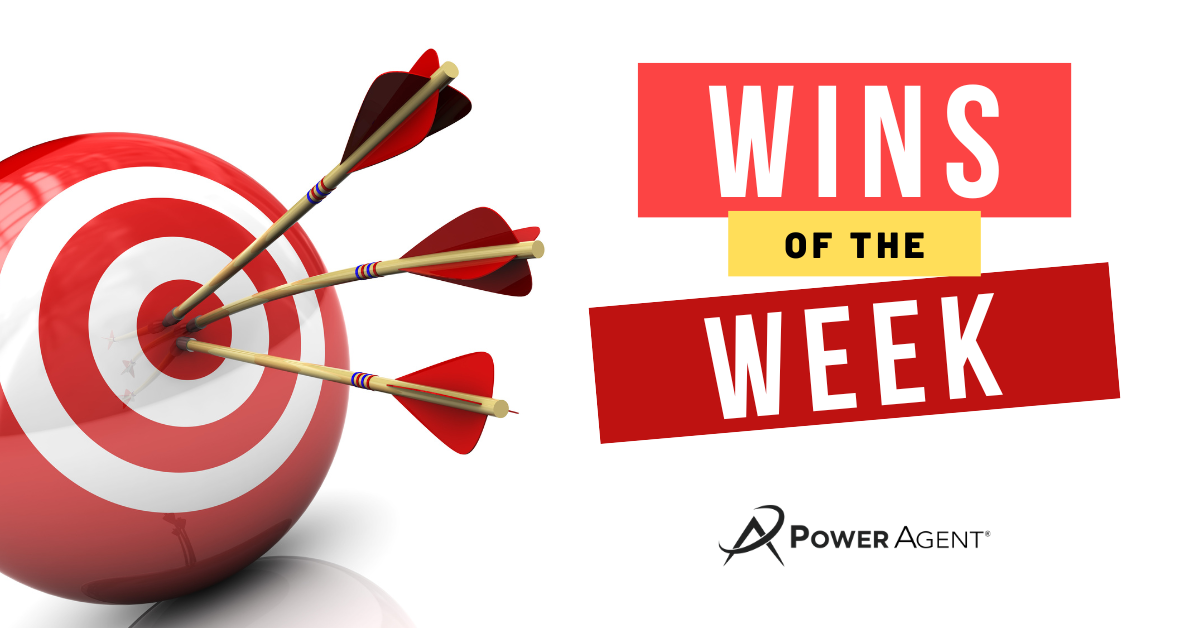 October 9, 2022
Need More Real Estate Wins In Your Week?
If the answer to that question was yes, you may just need a Real Estate Coach- don't worry; you came to the right place.
The Monday morning coaching call with Darryl Davis is always an exciting time for POWER AGENTS®, as they share their wins from the previous week. This particular session was no different, with everyone sharing what winning moves had been made and why those successes mattered most!
Help us celebrate these wins!
13 New Listings 
10 New Closings 
5 New Buyers 
5 Sales 
4 Offers Accepted 
2 Listing Appointments 
Had 3 Listing Conversations with FSBOs 
Closed 2 Deals 
Showed a New Client 2 Properties 
Got 2 Pre-Approvals 
Got their Highest Priced Listing Ever at $2.7M 
Got a $250k Price Reduction on a $2,549,000 Luxury Listing 
Worked on Getting Reviews from Past Clients 
Put Together a FSBO Presentation
 Extended a Tough Seller's Listing Agreement
 Got an Appraisal Completed
 Stepped Out of their Comfort Zone to Make Phone Calls
 Got a Deal through an Attorney Review
 Settled Home Inspection Issues
 Prepared Buyer Documents for a Friend/Client
 Got a POWER AGENT® Referral
 Started Preparing their First Farm Area
 Attended a Settlement with a Buyer 
Negotiated Repairs Found in a Home Inspection 
Connected with a Local Lender via Zoom 
Started Blocking their Time Better 
Began Attending Development Webinars 
Focused on Creating Monthly Events 
Mailed Out Newsletters Despite Hurricane Ian 
Held 2 Deals Together 
Got a Buyer AND Seller Client 
Started Creating Buyer and Seller Presentations 
Revitalized an Expired Listing & Got an Offer on it 
Became a VA Loan Certified Agent 
Kept a Deal Together 
Stayed Safe During Hurricane Ian, Checked All their Clients & They're Safe Too 
Had a Tough Discussion with Sellers to Lower their Price on Friday and Got an Offer the Following Sunday 
Showed a Property 
Had an Amazing Open House 
Worked with their Son's Boy Scout Pack to Make Collections for a Canned Food Drive in their Farm Area 
Learned about the Probate Niche 
Got a New Contract 
Negotiated a Redacted Offer and Got the Property Back on the Market
Scheduled a Closing with a $47,000 Commission
Worked through and Inspections for Termite Damage on a VA Loan 
Closed a Very Hard Deal -Working Leads on a Regular Schedule 
Closed their First Deal!
 Got an Accepted Offer after Multiple Offers 
Mentored a Fellow Agent on How to Promote a Listing that wasn't Getting Traffic 
Submitted an Offer and Got it Accepted the Same Day 
Did SMILE Stops for Past Clients 
Made New Friends and Connections at a Luau 
Took Time to Themselves & put Themselves First for Once 
Negotiated a New Buyer Sale 
Helped Clients who couldn't Sell to Rent their Home instead 
Completed their First-Time Homebuyers Seminar 
Has a Hot Buyer whose Price Just Went Up 
Became a POWER AGENT®
 Had a Fun and Successful Fall Customer Appreciation Event 
Handed Out Fliers for a Neighborhood Fall Festival Farming Event 
Planned a Free Buyers Seminar 
Passed their Florida Real Estate Licensing 
Fell into a Cash Deal that Closes this Week
Took More Education Classes
Got Two Listings from Previous Clients
 Sent a Link for a New Jersey Tax Rebate to all their Contacts and Clients to Help them Save Up to $1500 
Completed a Contract Over the Phone while on Vacation 
Relaunched a Listing after 90 Days on the Market 
Got through a BINSR on a Cash Sale 
Signed Up with Reminder Media to Send Holiday Magazines to Past Clients 
Reached Out to Past and Current Clients after Hurricane Ian 
Fired their Boss to Focus % on their Real Estate Business 
Found the Courage as a POWER AGENT® to Move on and Make Money for Themselves & Not Someone Else, Leaving their Team of 2.5 Years
This weekly call is one of our favorite parts of being in business. We love helping agents grow and celebrate success together!
Recommended reading: The Importance of Acknowledging and Celebrating Your Achievements
Ready to share YOUR real estate wins for the week?
POWER AGENTS® – Be sure to join us on the next Coaching Call to share those triumphs and cheer the weekly WINS of your fellow POWER AGENTS®! 
Real Estate Coaching is an essential piece for agents eager to create transformative results in their careers and life and create the kind of 
real estate success stories
 they see in other agents.
If you're not yet a Power Agent® – no stress!
Take us for a spin!
Our comprehensive program provides bang-for-your-buck coaching, training, and customizable marketing tools for real estate agents. With a proven track record, our program has already helped thousands of agents pump up their listing inventory, stabilize their business, nurture long-term customers, bolster their authenticity and confidence, decrease stress, and create prosperous careers and lives. 
Imagine what you could do if you had just a snippet of what's inside The Power Program®! Just a fraction! 
Hope to see you on the "inside"! Here's to your success!  
---

Get the latest real estate training tips delivered to your inbox!