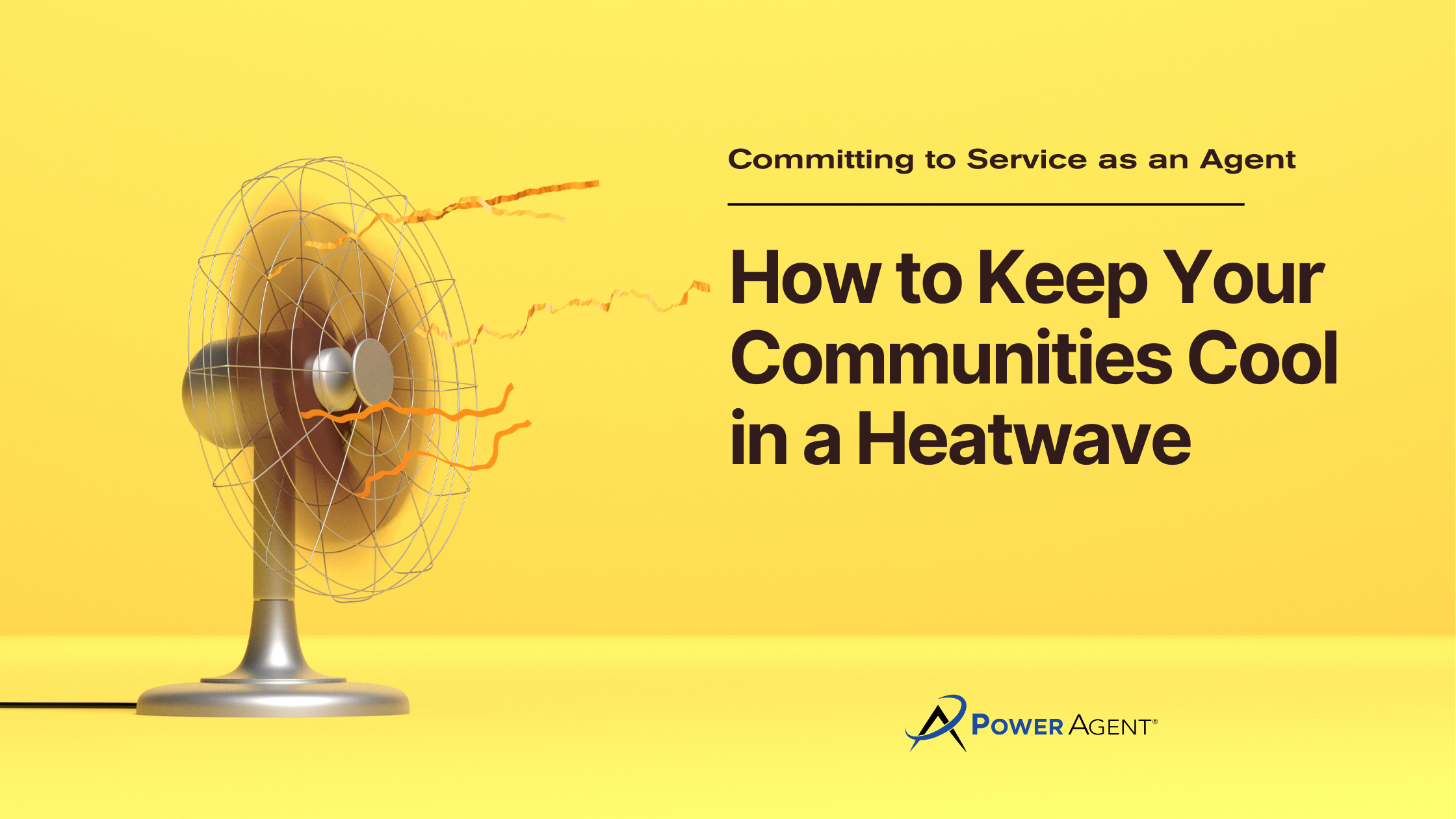 August 10, 2023
Real Estate Agent Initiatives: How to Keep Your Communities Cool in a Heatwave 
Branding yourself as the turn-to real estate resource in your market takes being civic and community centric and taking initiative to help wherever and whenever you can. 
As the summer ushers in more frequent and intense heat waves, there is a pressing need for communities to join forces and devise innovative solutions to safeguard their most vulnerable residents. This is where local real estate agents like you come into play as essential players, using your community ties, network, and expertise to spearhead local heatwave initiatives that are uniquely tailored to your neighborhoods. After all, who would know a community's residence and habits better than you? 
Real estate agents hold a unique position as intermediaries between homeowners, authorities, and businesses, positioning YOU to take proactive steps to provide help and promote preparedness during extreme heat events. These initiatives underscore your pivotal role in ensuring the well-being of your communities and building a resilient, united front against the challenges brought on by heat waves. 
POWER AGENTS®: Don't forget to check out the POWER PROGRAM® Classroom for resources, flyers, and tools you can use to help your communities.  
Related reading: Heat waves are getting hotter and more frequent. Here's how to prepare. 
That being said, here are some ideas that we put together on how you can provide help to those who need it: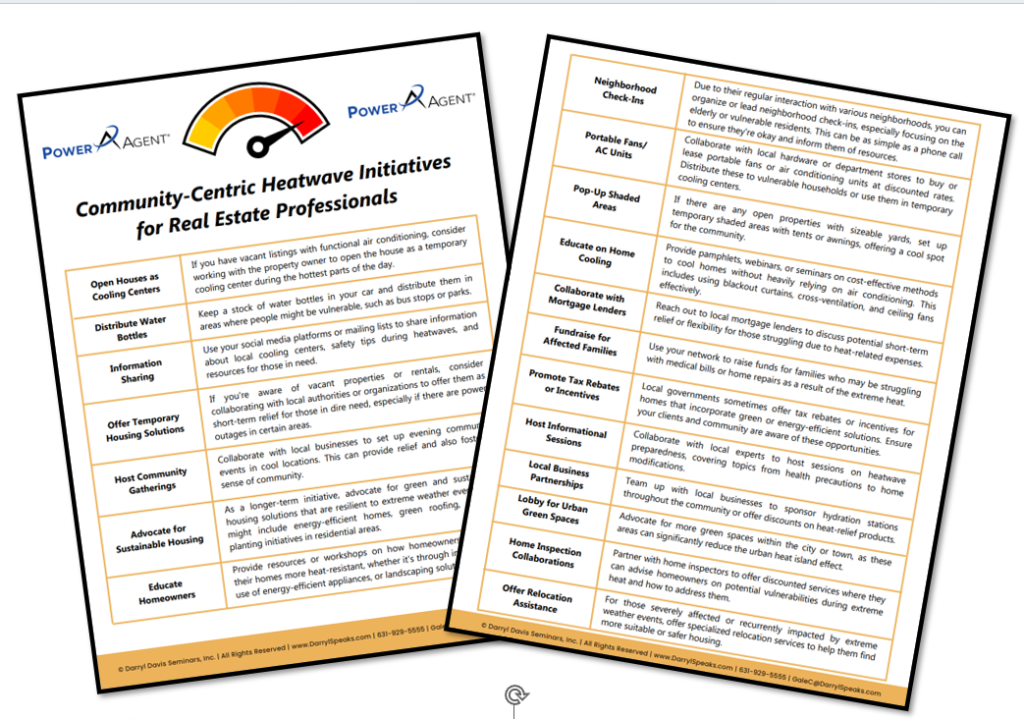 Use your open houses as cooling centers:

If you have vacant listings with functional air conditioning, consider working with the property owner to open the house as a temporary cooling center during the hottest parts of the day.  

 

Distribute water bottles in the community:

Keep a stock of water bottles in a large cooler in your car and distribute them in areas where people might be vulnerable, such as bus stops or parks. 

 

Use the power of social media to share information:

Use your social media platforms or mailing lists to share information about local cooling centers, safety tips during heatwaves, and resources for those in need. 

 

Offer short-term housing solutions:

If you're aware of vacant properties or rentals, consider collaborating with local authorities or organizations to offer them as short-term relief for those in dire need, especially if there are power outages in certain areas. 

 

Host community gatherings:

Collaborate with local businesses to set up evening community events in cool locations. This can provide relief and also foster a sense of community. 

 

Advocate to your local government for sustainable housing:

As a longer-term initiative, advocate for sustainable housing solutions that are resilient to extreme weather events. This might include energy-efficient homes, green roofing, or tree-planting initiatives in residential areas. 

 

Educate homeowners on heatwave home tips:

Provide resources or workshops on how homeowners can make their homes more heat-resistant, whether it's through insulation, the use of energy-efficient appliances, or landscaping solutions. This includes using blackout curtains, cross-ventilation, and ceiling fans effectively. 

 

Organize neighborhood check-ins with the most vulnerable:

Due to their regular interaction with various neighborhoods, you can organize or lead neighborhood check-ins, especially focusing on the elderly or vulnerable residents. This can be as simple as a phone call to ensure they're okay and inform them of resources, or pairing them with a neighbor who can knock on their door. 

 

Purchase or rent portable fans/AC units:

Collaborate with local hardware or department stores to buy or lease portable fans or air conditioning units at discounted rates. Distribute these to vulnerable households or use them in your temporary cooling centers. 

 

Use tents to create shaded areas:

If there are any open properties with sizeable yards, set up temporary shaded areas with tents or awnings (not to mention cold water!), offering a cool spot for the community. 

 

Collaborate with mortgage lenders

: Reach out to local mortgage lenders to discuss potential short-term relief or flexibility for those struggling due to heat-related expenses or employment problems.

 

Fundraise for affected families:

Use your network to raise funds for families who may be struggling with medical bills or home repairs because of the extreme heat. This can include donations of fans or portable A/C units for those who don't have any means to cool their home.

 

Promote Tax Rebates or Incentives:

Local governments sometimes offer tax rebates or incentives for homes that incorporate green or energy-efficient solutions. Ensure your clients and community are aware of these opportunities. 

 

Host informational sessions:

Collaborate with local experts to host sessions on heat wave preparedness, covering topics from health precautions to home modifications. 

 

Create local business partnerships:

Team up with local businesses to sponsor hydration stations throughout the community or offer discounts on heat-relief products. 

 

Lobby for more urban green spaces:

Advocate for more green spaces within the city or town, as these grassy areas can significantly reduce the urban heat island effect created by the amount of asphalt and concrete.

 

Home inspection collaborations:

Partner with home inspectors to offer discounted services where they can advise homeowners on potential vulnerabilities during extreme heat and how to address them. 

 

Offer Relocation Assistance:

For those severely affected or recurrently impacted by extreme weather events, offer specialized relocation services to help them find more suitable or safer housing during a heatwave. 

 
As a knowledgeable real estate expert with deep-rooted community bonds, your active, approachable, and collaborative stance holds significant value. Your connections within the community underline your pivotal contribution to relief and preparedness efforts, thus taking initiative, fostering open communication, and collaborating harmoniously are integral to effecting substantial positive change and lending assistance where it truly matters – your community. 
Related reading: Being Prepared Isn't Just for Scouts 
Learn more about the POWER AGENT® PROGRAM
Join Darryl's Inner Circle Facebook Group. We are always posting fresh ideas, training tools, strategies, and templates, and hosting important, timely discussions with real estate professionals across the globe who are committed to their Next Level of success and life.  
Subscribe to our newsletter. Click the button below to fill out a simple form and tap into new resources, free downloads, premium content, and exciting promotions. 
Reach out and talk to us. Not sure if this coaching program and community is right for you? Click that blue chat button on the bottom right of the screen, or call us at 631-929-5555. We are here to help!
Not a POWER AGENT® yet? Give us a go! This comprehensive program provides affordable coaching, training, and customizable marketing tools for real estate agents. It's proven to help thousands of agents significantly boost their listing inventory, solidify their business, cultivate lifelong customers, enhance authenticity and confidence, reduce stress, and craft fulfilling careers and lives.   
Check out the POWER AGENT® PROGRAM here!