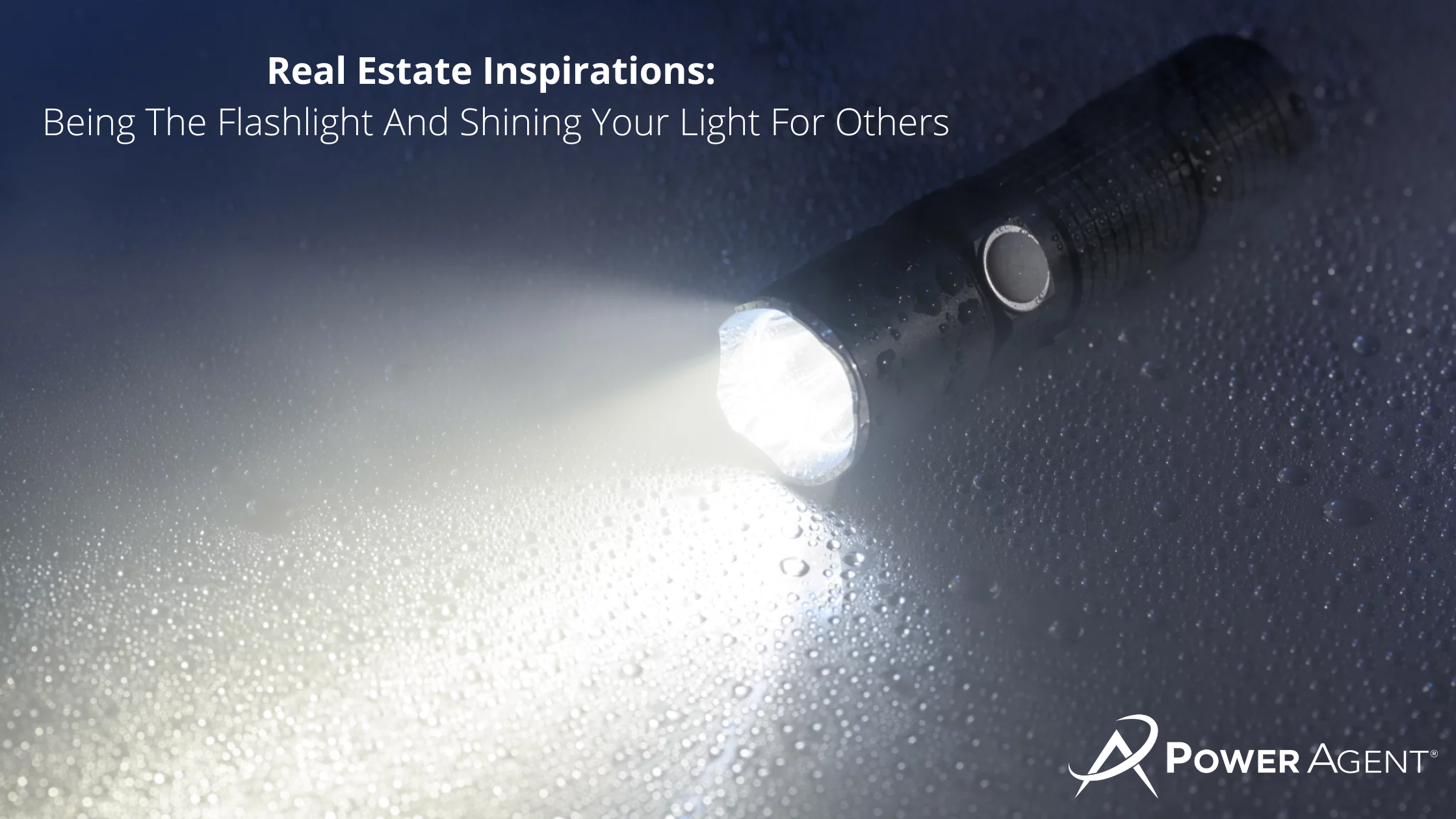 July 31, 2022
Real Estate Inspirations: Being The Flashlight And Shining Your Light For Others
Just like we don't throw a flashlight away when the batteries die, we don't ignore our families, friends, and clients when they are struggling. Like the flashlight, we need to help them change their batteries.
Let's say you have a flashlight. It's a pretty nice flashlight and has gotten you through some pretty dark times (pun intended!). Then one day, the light goes dim, and poof! It stops working completely! Do you throw it in the trash? No! You change the batteries.   
When someone makes a mistake or finds themselves in a dark place, do you cast them aside? Do you stop being friends? Stop working with them? Of course not. You help them change their batteries.   
Now, not everyone uses the same kind of battery, and the type of battery can change depending on the problem and what that person needs, so here is a little guide to help you as you help them. 
AA – Attention and Affection
By giving someone your attention and affection, you create a connection between you both. This connection is a genuine need for human beings, even for those who seem like loners (and even if they tell you they don't need it!). We don't have to look very far to see how isolation from people and a lack of this attention and affection can take a serious toll on people, with the pandemic lockdowns creating mental health issues as we have never seen before. The Mental Health Association had this to say: "In 2021, over 5.4 million (N=5,441,125) people took a mental health screen, representing a nearly 500% increase over the number of people who completed a screening in 2019 and a 103% increase over 2020." Human beings are social creatures designed for interaction and affection.  
AAA – Attention, Affection, and Acceptance
Not only are attention and affection fundamental human needs, so is acceptance. We've all experienced rejection at some point in our lives, and we know the pain of feeling unwanted or unaccepted. Being accepted isn't something that's just nice to experience; it is a requirement. If the person you are trying to help is suffering from a lack of acceptance, knowing that no matter what, you are there for them can bring them peace. The movie Moulin Rouge used the phrase, "The greatest thing you'll ever learn is just to love and be loved in return." Acceptance is a two-way street — it must be both given and received for us to find healthy change and why attention and affection are so vital to acceptance. 
C – Compassion
Where would any of us be without compassion? What if nobody ever ran into burning buildings or executed other heroic feats of rescue during times of trauma? What if there were no heroes who sacrificed their own lives for someone else? What if nobody gave their restaurant leftovers to the starving homeless person on the street? What an awful existence. It's obvious, the greatest deeds have been born from compassion for others and the only way anyone gets through their day with any joy.   
Just like attention, affection, and acceptance, compassion is a fundamental need for us to be mentally healthy. Nelson Mandela, one of the most compassionate people to ever walk the earth, once said, "Our human compassion binds us the one to the other – not in pity or patronizingly, but as human beings who have learnt how to turn our common suffering into hope for the future." Having compassion for others is to walk alongside another and share the journey because nobody can walk the road of life alone.
D – Direction
To lose your direction in life is to lose hope and your sense of purpose. It can make us feel isolated from others and can contribute to more serious mental vulnerabilities. Having a direction and helping others find (or remember) their direction in life improves our mental resilience so that when we do face difficult times, we still have our purpose and goals to guide us through. That's not to say that our direction in life won't change from time to time, as personal growth often causes us to reassess what we want to accomplish in life, but always having a direction will keep us on track — it's our life compass. 
The Takeaway
You have a close friend who is struggling, and you have tried changing their batteries as they go through a rough time. You hurt for them, and want to help, but what if, after all that, changing their batteries doesn't work? There is only one thing left to do — that's when you sit quietly with them and share your light.  
Related Reading: Being a Heart-Centered Real Estate Agent Will Set You Apart 
Calling All Real Estate Agents!
Are you ready to start taking things to the Next Level®? We have the tips, tricks, and tools you need to find success…at any age! 
POWER AGENTS®, you can check out the Farming, Self-Promotion, and Mailings tab in the Classroom for Brand-Building tools and ideas, and don't forget to check out the Social Media Shareables tab too! Whether you need inspiration, motivation, or content to get started with, we have it! 
Never Miss a POWER AGENT® Training Event Again! Click here to subscribe to our BRAND NEW Calendar feature! Trainings, brainstorming sessions, and top agent interviews will automatically be added to your calendar, so you never miss out.  
---

Get the latest real estate training tips delivered to your inbox!
Not yet a POWER AGENT®? Did you know that for LESS than the cost of a Starbucks coffee, you can have access to hundreds of marketing, prospecting, and objection handling tools – live weekly coaching, podcasts, webinars, and more?    
Start your POWER AGENT®  trial and have total access to every tool we have including letters, dialogues, training tips, webinars on demand, e-Guides, and marketing tools for just $5. 
Contact our team today to sign up or get the answers you need: (800) 395-3905!