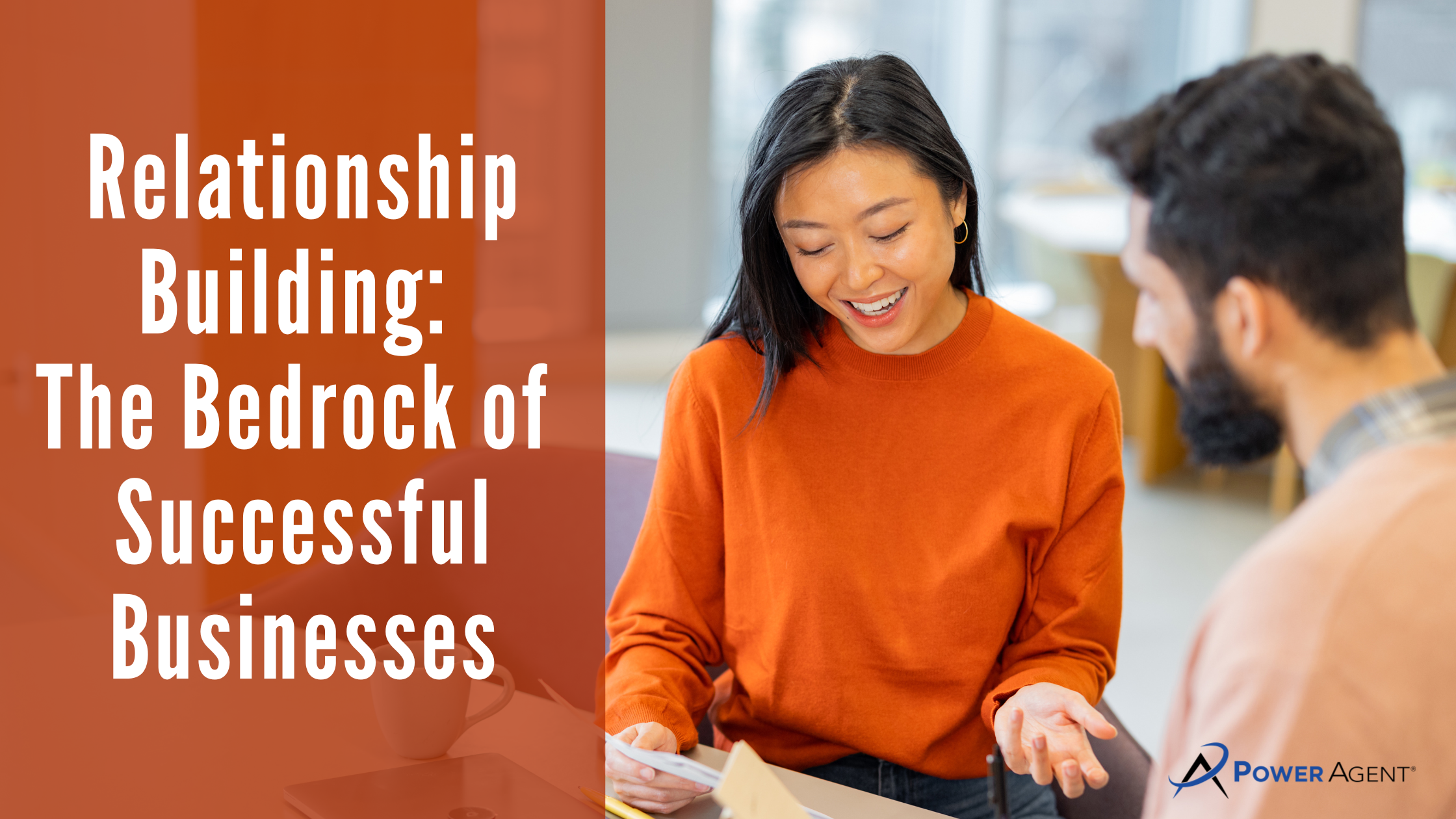 August 31, 2023
Relationship Building: The Bedrock of Successful Businesses
In my 35+ years in the real estate business, I've witnessed a myriad of changes and adaptations. The recent years have been a testament to our industry's resilience. One lesson, above all, rings true: The power of prioritizing relationship-building over mere transactions. 
It's not just in real estate where this principle holds weight. Consider the aviation industry, an entirely different beast but with striking parallels when it comes to the significance of relationships. 
The Remarkable Turnaround of Scandinavian Airlines 
Enter Jan Carlzon. In 1981, he took the helm of Scandinavian Airlines, a company that was on the brink of collapse. Yet, with a vision that was groundbreaking at the time, he managed to achieve an astonishing turnaround.  
Carlzon didn't achieve this by focusing on the planes, routes, or even the prices – he focused on the people. He decentralized decision-making, putting trust in his employees, and understanding the weight of every customer interaction. He termed these critical interactions "moments of truth." 
Whether it was a call about a lost bag, adjusting a flight schedule, or addressing a delay, Carlzon saw each touchpoint as an opportunity to redefine the airline's relationship with its passengers.  
His philosophy was simple and profound. In his book, Moments of Truth, Carlzon states: "SAS is 'created' 50 million times a year, 15 seconds at a time. These 50 million 'moments of truth' are what determine SAS's fate." 
Here are some key takeaways from Jan Carlzon's remarkable turnaround of SAS Airlines: 
Empowering Frontline Employees:

Carlzon believed customer service wasn't just a department; it was everyone's responsibility. He empowered frontline employees to make decisions on the spot to resolve customer issues. This gave them ownership over the customer experience, enabling them to convert potentially negative moments into positive ones.

 

Training and Development:

To equip employees to handle issues independently, Carlzon invested in training and development. This ensured employees were confident and capable of excelling in customer service roles, turning moments of truth into opportunities for positive impact.

 

Embracing Change:

Empowering employees was just the start. Carlzon understood a culture shift was necessary to implement his vision. He engaged employees, fostering ownership and enthusiasm. This mindset shift helped employees see every interaction as shaping the company's image. Employees who took pride and ownership were motivated to present the best image possible.  

 
Continuous Improvement:

Carlzon instilled a culture of learning from interactions, identifying areas for refinement and innovation. This iterative approach allowed SAS to evolve and adapt to changing customer expectations.

 

Customer-Centric Innovation:

To enhance moments of truth, Carlzon encouraged innovative thinking. By introducing new services and amenities, SAS differentiated itself and enhanced customer experiences, further solidifying positive customer perceptions.

 
Real Estate's "Anchor Moments"  
In real estate, every interaction between an agent and client, or staff and homeowner, is an opportunity to anchor the relationship. I call these opportunities "anchor moments" – from initial inquiries to showings, inspections, closing, and beyond.  
Let me tell you a story that's an example of how even the best agents can miss an anchor moment. My 26-year-old son recently bought his first house with a friend of his for $750,000. This was a major accomplishment for a first-time homebuyer. The agent who helped my son is a top agent, well-respected in the Long Island market.  
I recently asked my son if he's heard from his agent since moving in over two months ago. To my dismay, his reply was no. So, here you have a top agent who had the opportunity to make a difference with a 26-year-old first-time homebuyer who also plans to buy more investment properties. And the agent has not even checked in to see how he's doing with his new home ownership. This is an anchor moment that has unfortunately been missed. If even a successful agent could make this mistake, I'm sure there are many more in our industry doing the same. 
To help agents recognize and capitalize on anchor moments, we've created a checklist of 58 key opportunities for relationship building. You can download it here! 
We challenge you to review these anchor moments. On a scale of 1-5, assess how your agents are showing up. For areas of excellence, offer praise. For shortcomings, determine what needs to change.  
To strengthen anchor moments, we suggest: 
Have a meeting about these moments.

Share the checklist with your team members and have them self-evaluate where they are on the scale.  

 

Consider creating some policies for agents.

Standard practices and policies for customer care can help you to help agents have a clear path for strong relationship building.

Creating a customer care Code of Conduct

can help define what actions to take. 

 

Provide important and powerful training on the topic.

Resilience in this industry, especially as agents are facing tough competition, lies in the little things. The ability to create impactful, memorable, positive moments will make a difference in their careers, not just in the short term, but also in their ability to build a legacy of clients for life. 

 
By recognizing the value of interactions and empowering agents to transform moments into positive experiences, you can build a strong foundation for success, just as Carlzon did. His legacy shows leadership isn't just operations; it's about connections that shape an organization's identity.  
The question is, when will YOU start "anchoring" your agents in excellence? We have a companion article for agents here: Elevate Your Client Relationships Through Anchor Moments. 
The Essence of Real Estate Success  
The key message is clear: In real estate, great agents build relationships by recognizing and seizing "anchor moments" to strengthen ties. By doing so, they create not just transactions, but enduring bonds rooted in trust – the foundation for true success in any market. 
Know that we are ALWAYS here to help you help your agents build strong businesses and design careers and lives worth smiling about. Contact us anytime (really!). 
Resources You Can Count On
Know that agents do NOT have to go it alone in this market. Our goal is to bring the tools, training, and coaching each needs to not only survive the shifts – but build solid, dependable foundations they can count on and help them build clients for life. If that sounds like a goal that can help you reach YOUR goals – then join us for our Free Weekly Real Estate Webinar Training Series! Click below to register for the next one!

Darryl Davis is an award-winning international speaker, real estate and business coach, and best-selling author of three books, all published by McGraw Hill Publishers.  
For more than 35 years, Darryl has spoken to and trained more than 100,000 sales professionals around the globe to more than double their production year after year. His book, How to Become a Power Agent in Real Estate, tops Amazon's charts for one of the most sold books to real estate agents.  
He was awarded the Certified Speaking Professional (CSP) designation by the National Speaker's Association which is given to less than 2% of all speakers worldwide.  
Whether from a stage or Zooming into a virtual room, Darryl's extraordinary humor, relatability, and natural gift for teaching real-world, results-producing skills and mindsets to audiences have made him a client favorite throughout his career.  
Audiences will laugh, learn, and ultimately walk away better prepared for a changing world, with the tools, skills, and training they need to build their businesses with more ease and less stress and to design lives and careers worth smiling about.  
Bring One of Darryl's W.O.R.K. Topics to Your Organization!
By providing your agents with the knowledge and insights they need to stay ahead of the game, you can ensure that they are equipped to handle any situation that comes their way! Contact us here to learn more!