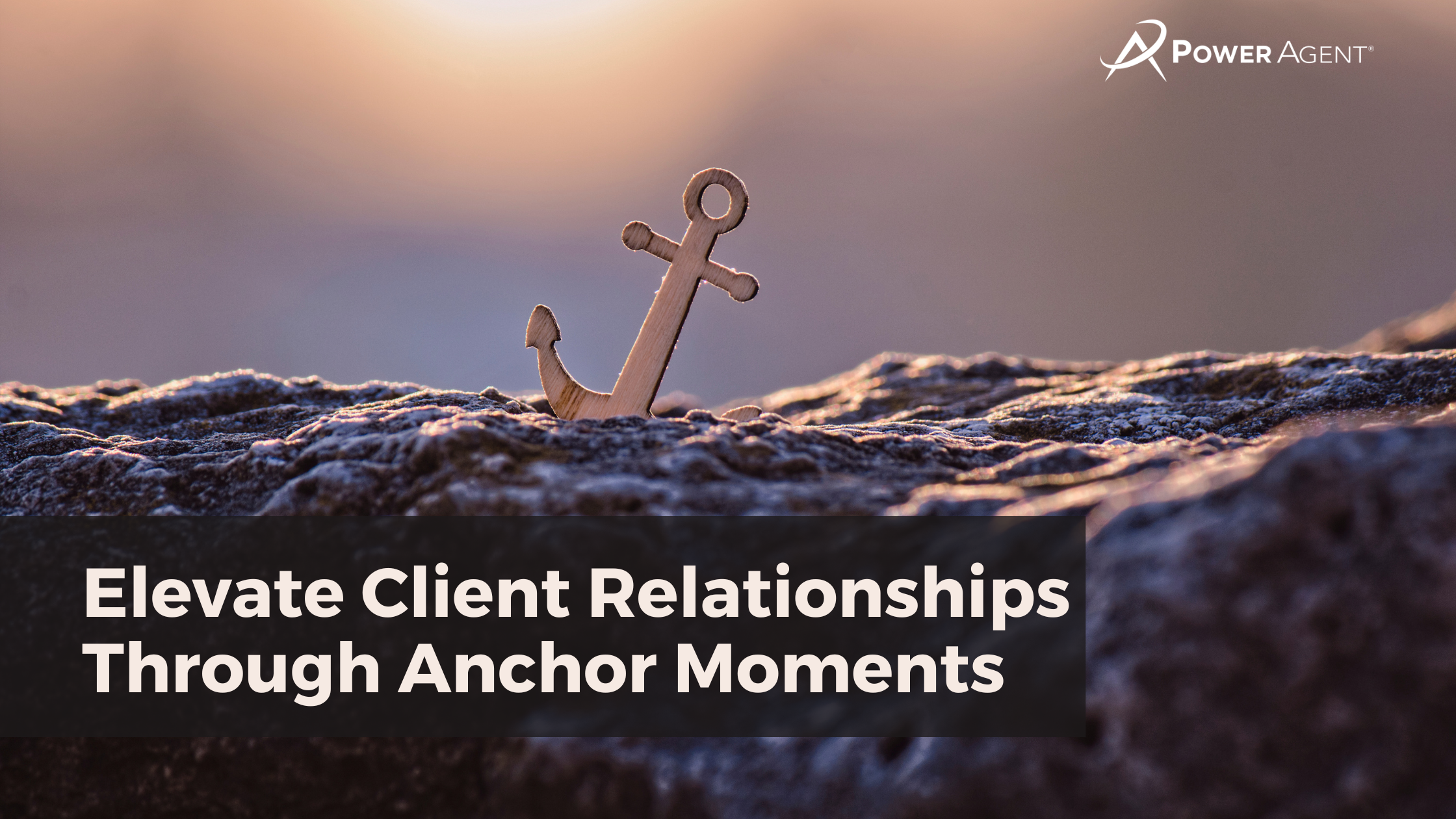 August 31, 2023
Elevate Client Relationships Through Anchor Moments
Success in real estate is NOT about transactions; it's about cultivating strong and enduring relationships with clients. It's about those little moments that matter where trust, rapport, and connection are built between agents and consumers.
This idea of little moments is not exclusive to real estate, of course. Think about Disney's "magical moments", defined as "a spur-of-the-moment act of kindness between cast members and the guests".  The policy is that cast members and park staff are given the autonomy to create a magical experience for guests for any reason based on what they see and feel in those moments. That might look like a special pin, a free ice cream, a fast-pass, or even a behind-the-scenes peek at an attraction.  
Ritz Carlton has a similar policy, and their motto is, "We are Ladies and Gentlemen serving Ladies and Gentlemen." Staff members are trained on the company's Famous $2,000 Rule, their customer service policy that empowers the hotel's employees, referred to as "ladies and gentlemen," to spend up to $2,000 per day, per guest, without seeking approval from their superiors, to resolve any guest issues or complaints. 
Then there is Jan Carlzon's incredible story of bringing Scandinavian Airlines from the brink of bankruptcy into a thriving and competitive business. He details that journey in his powerful and insightful book called Moments of Truth, which identified the key customer moments he discovered for his employees that became the catalyst for positive change. We took this concept and applied it to our industry to define what we call "Agent Anchor Moments," which can help agents forge deeper connections that extend beyond business transactions and create customers for life. 
Defining Anchor Moments: 
Anchor Moments, something we created for our POWER AGENTS® and inspired by Jan Carlzon's philosophy, are those pivotal instances when real estate agents interact with clients. These moments go beyond mere transactions; they are opportunities to make a lasting impact on the client's perception of the agent's expertise, professionalism, and care. The aim is to create moments that become the foundation for a trusting and enduring relationship. 
Related reading: Roost Real Estate – Week 9: The Client Experience: Moments of Truth  
Let's Outline a FEW of the 58 Anchor Moments with Sellers and Buyers for REALTORS® we've put together: 
Going the Extra Mile:   
Building a Lasting Legacy: 
Jan Carlzon's Moments of Truth philosophy serves as a terrific roadmap for real estate agents aiming to transcend transactions and build enduring relationships. By identifying and seizing Anchor Moments, agents can create experiences that not only shape client perceptions but also forge a path toward long-term success. In a world where trust and authenticity are paramount, embracing the power of these moments is a testament to an agent's dedication to exceptional client service. 
Related reading: Real Estate Success Stories  
POWER AGENTS®, click here to download your Anchor Moment Checklist for Agents.
Take a little time with each and rate yourself on how you are showing up for each moment from 1-5. For those where you feel you are a little (or a lot) weak, put in the extra effort to strengthen your communication levels, skills, and processes. When you do, you will see more competition fall away and more clients turning to you as the resource they need, especially in these somewhat challenging times.  
---

Get the latest real estate training tips delivered to your inbox!
Learn more about the POWER AGENT® PROGRAM
Still not a member of the POWER AGENT® Program? Give us a try!  We offer a budget-friendly coaching, training, and customizable marketing toolkit designed for real estate professionals. Our program has helped thousands of agents significantly boost their listings, fortify their business, establish enduring client relationships, enhance their authenticity and confidence, reduce stress, and shape fulfilling careers and lives.  
Check out the POWER AGENT® PROGRAM here!