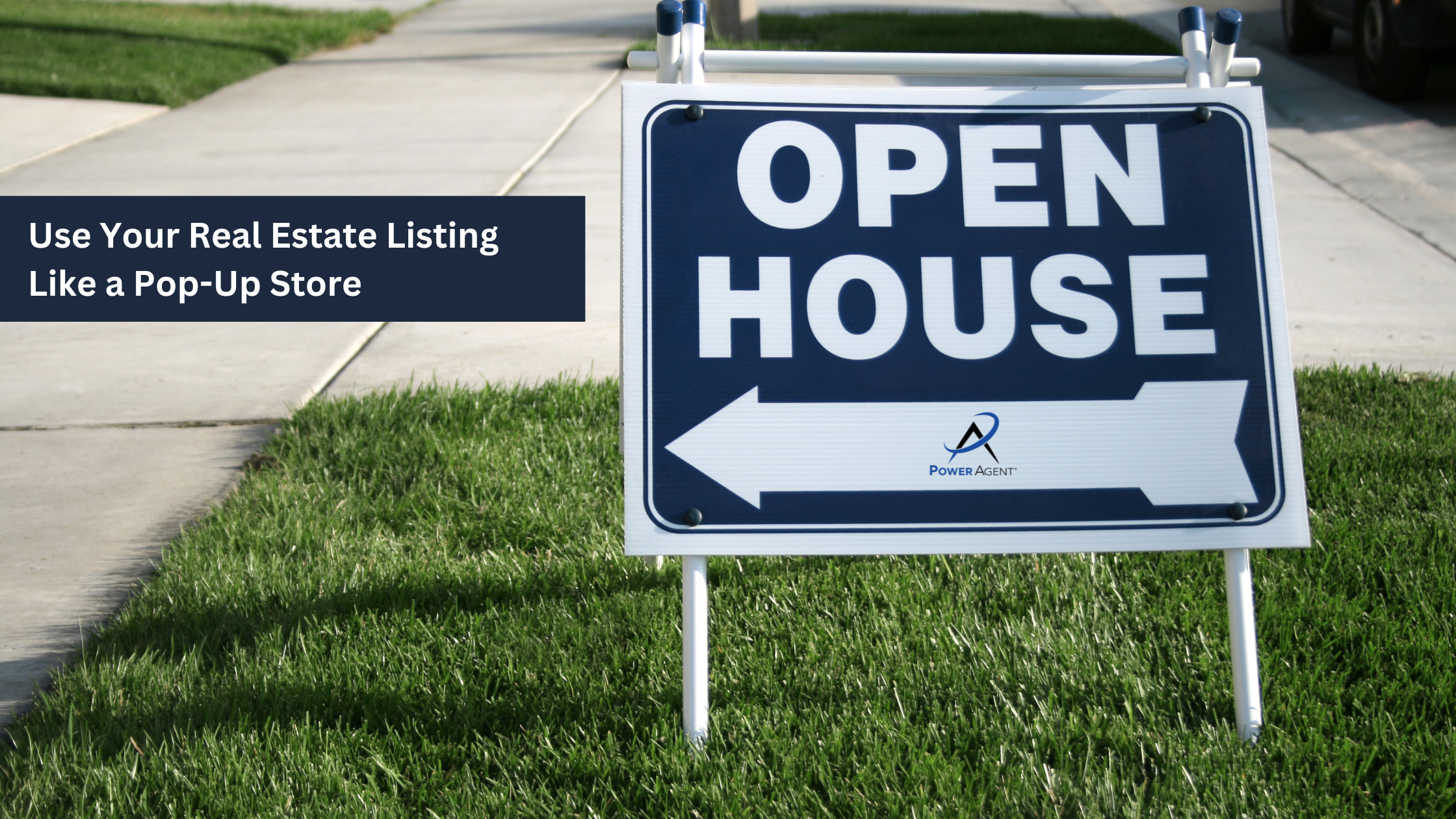 October 7, 2022
Tuesday Real Estate Tips: Use Your Real Estate Listing Like a Pop-Up Store
Look at your real estate listing as a POP-UP store – a great way to attract attention to your listing and generate both buyer and seller interest! 
There are agents who really love hosting open houses, but if you aren't one of them, you aren't alone! Maybe you get disappointed with the turnout or are tired of hearing guests say, "I already have an agent," or you don't want to miss time with your family on the weekends. Whatever your reason, we want to help change your thinking and approach to open houses so you can get the most out of them.   
What is a "Pop-Up Store"?
If you have ever been to a mall or walked down a street, you have seen the kiosks and booths. They are defined as "a shop or store that is deliberately temporary. It's a store that "pops up" for a limited period of time to achieve a particular goal." They are mostly used to create a unique and engaging shopping experience and to get your product in front of your buyer where they are at.   
How an Open House Can Be Your Pop-Up Store?
Obviously, the home you are selling can't be moved, but it CAN be treated as an extension of your own real estate office. It's an opportunity for you to take two or three houses to be present in the home to attract business, both buyers and sellers. By mailing all the homeowners in the area, you can invite them to your open house, and just like stores offer a promotion, you can do the same! If guests bring in their postcards, they can claim a free gift. You can use one of our amazing eGuides or other informational material, as well as goodies or gift cards from local businesses. When someone comes with that postcard, you know they live in the area and are someone you want to connect with.   
Related reading: 12 Top Agent Tips For Hosting Open Houses 
If the home is vacant, you can also treat it like a storefront and have "open hours," which is like hosting a drop-in open house during the week. Use signs and flags to show when you are there, and you can even keep a handful of postcards in your car to write the details of when you will be in your "storefront" and drop them into mailboxes in the area to invite people to come chat and have any questions answered. Not only do you get people coming in to see the house, but they may have general questions about real estate, and you are available to answer them and build rapport.   
Related reading: Extra Mile Real Estate Marketing 
The Takeaway
When you think of every listing as a pop-up store or a storefront extension of your office, it begins to feel natural to be there and spend time getting to know the people in the area. After all, when the neighbors see you frequently in several houses in the area, they are going to remember you as THE real estate agent selling homes in their area.   
Calling All Real Estate Agents!
Are you ready to start taking things to the Next Level®? We have the tips, tricks, and tools you need to find success no matter how long you have been in the real estate business! 
POWER AGENTS®, you can check out the Social Media Shareables tab in the Classroom for Brand-Building tools and ideas. Whether you need inspiration, motivation, or content to get started with, we have it!    
Never Miss a POWER AGENT® Training Event Again! Click here to subscribe to our BRAND NEW Calendar feature! Trainings, brainstorming sessions, and top agent interviews will automatically be added to your calendar, so you never miss out.     
---

Get the latest real estate training tips delivered to your inbox!
Not yet a POWER AGENT®? Did you know that for LESS than the cost of a Starbucks coffee, you can access hundreds of marketing, prospecting, and objection-handling tools – live weekly coaching, podcasts, webinars, and more?     
Start your POWER AGENT®  trial and have total access to every tool we have , including letters, dialogues, training tips, webinars on demand, eGuides, and marketing tools, for just $5.    
Contact our team today to sign up or get the answers you need: 631-929-5555!