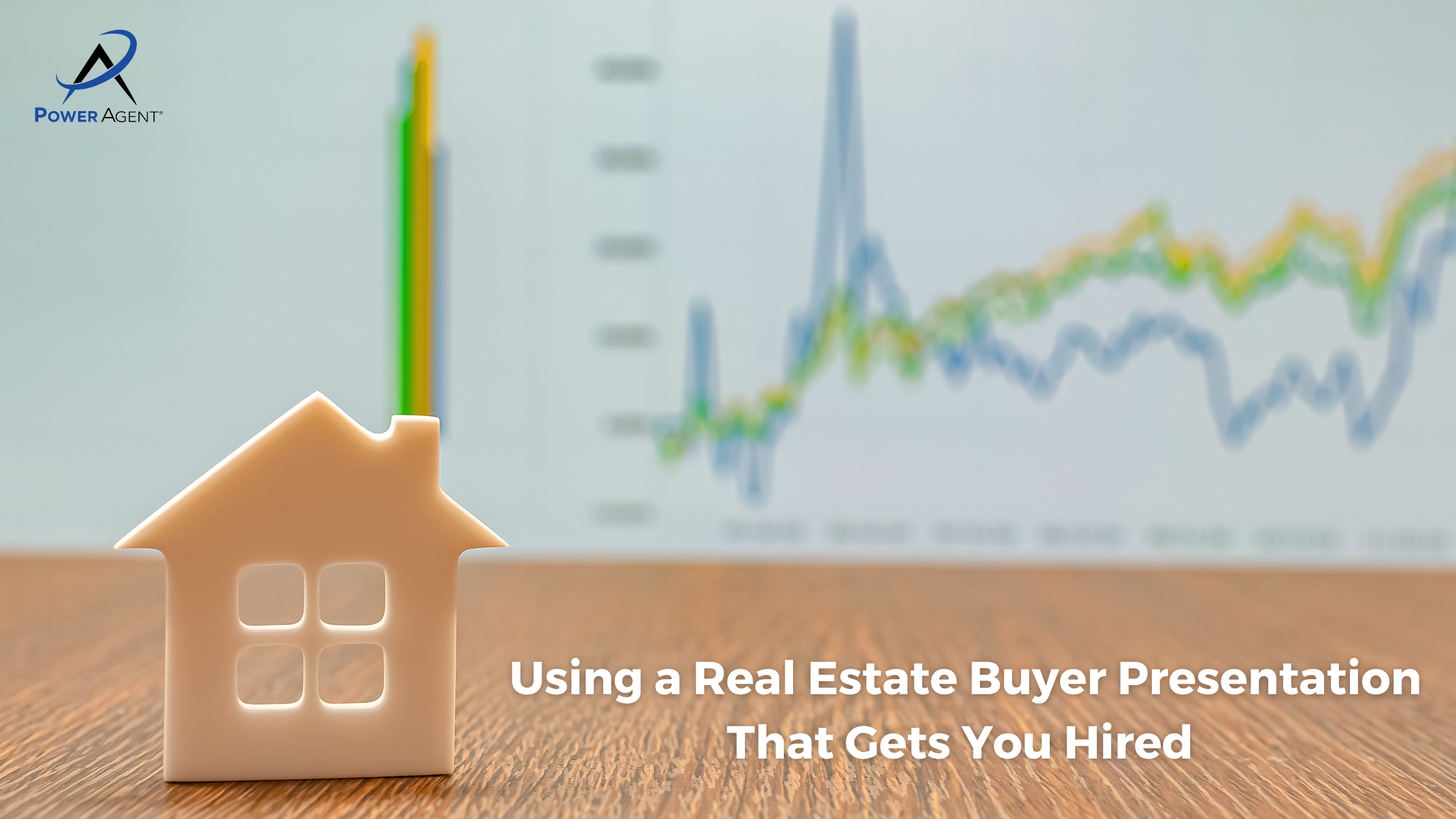 February 25, 2022
Using a Real Estate Buyer Presentation That Gets You Hired  
Most agents work to perfect their real estate listing presentation to sellers, but what about the buyer's presentation? In a hot market, you need both!
Just like when talking with Sellers, the Buyers' presentation contains many of the same elements. They need to understand the current market, they need to know what to expect, they need to like you, and they really need to trust you — all this so they will commit to working exclusively with you.  
Customers vs Client
One of the biggest mistakes agents make is treating their customers as clients. What's the difference, you ask? The first time you meet with a buyer, you need to determine whether they are going to be a customer or a client. A customer is someone who isn't there to build a relationship with you, and it's based on a single transaction. An example of this would be someone coming into your store to buy shoes. A client is someone who is there for the professional and highly personalized service, like that of an attorney or therapist.  
TIP: Check out our awesome article on Inman, "5 Secret Ingredients to Creating Buyer Loyalty." 
Helping Buyers Work Through Their Fears of Buying
Buying a home can be a nerve-wracking experience, and sometimes buyers will begin to make excuses why they shouldn't buy or shoot down every house you look. This isn't because they don't like the house, it's to mask the truth of their fears. It's up to us to find out what the source of that fear is so we can help them move past it.  
Most of the time, it's a fear about having a big mortgage to pay or other money issues, but breaking it down into what a monthly payment would be instead of talking about the whole amount makes that smaller number feel more reasonable, especially if it's comparable to their monthly rent. Maybe they are worried about losing their job, or have other fears about this big step, but it's important to talk about their fear, not the excuse they are using.  
Sometimes, being a real estate agent is a little like being a therapist! This is where coaching really comes into play — sitting down with them to talk about options, particularly around money, can really help to allay their fears. Sit with them and do the math of monthly payments, or make a pros and cons lists of homeownership.  
The Buyer Agency Agreement 
Your customers become clients by signing the Buyer Agency agreement, which is a MUST! Would you really want to work your backside off for people who are refusing to commit to buying with you? Not only does this legal document secure their loyalty to you, but it also secures certain legal problems that could arise without one.  
Sometimes, buyers need to understand what they will lose out on by NOT signing, such as how your fiduciary duty will automatically be to the seller, or how you cannot advise them about a property, or how you cannot keep their information confidential, or consult with them about counter-offers. Essentially, you cannot have their back without that signed document. 
TIP: Check out the "As Your Buyer's Agent Promises" resource in the Buyer's Tab, which outlines everything you are able to accomplish for your buyer. The "Drawbacks to Not Hiring a Buyer's Agent" is also a valuable flyer to show your buyers. 
The 6-Step Buyer Process
We are often asked if we have an "official" buyers presentation template similar to the Listing Presentation, and we often recommend taking your buyers through the "6-Step Buyer Process", which contains many similar elements (and PowerPoint slides) as the listing presentation. Essentially, this will explain the process of buying a home from start to finish.  
Inform

– Who you are, credentials, awards, certifications, education. Include your brokerage information and successes, as well as the state of the market currently. This is where you communicate your value and show how you will serve them, and have them sign the Buyer Agency Agreement.

 

Ask Questions

– Find out what kind of people they are, what they do for a living, why they are moving, where they hope to go (and when), as well as other questions that help you determine what they are committed to. 

 

Select Houses

– Once you have an idea what their price range is and "Must-have" and "Like-to-Have" list ideas, you can start narrowing down houses to consider.

 

Inspection Process

– Help the buyer get a sense of the whole neighborhood with a scenic tour, park across the street from the house so they can see the whole property, and don't discuss the price until after they view the property. Present the price in terms of monthly payments rather than the whole number.

 

Paperwork

– When the buyer finds The One, create the offer and submit it to the listing agent, negotiate the details, and come to an agreement. 

 

Ongoing Services

– Once the deal closes and the keys have been handed over, be sure to keep in touch. That is part of the client experience, building the relationship to turn into future business and referrals.

 
Some Other Things to Consider During Your Buyer Presentation
As you go through this real estate buyer presentation and the 6-Step Buying Process, there are a few other things that you want to consider as well. We want to listen to what the buyers want, but we also need to understand that their wants will begin changing (sometimes considerably) once they start looking at houses and see what they like and don't like.  
We also want to create a sense of urgency to get them more actively involved by pointing out that this market could change, and not necessarily in a way that saves buyers some money. Two years ago, buyers decided to wait and now housing prices have skyrocketed and they can no longer get into a home. We don't know what the future holds, but we do know what is happening right now.  
Last, but not least, this conversation is about communicating your value. When they see how passionate you are about real estate, and how you live and breathe the industry and know your stuff, they won't be able to envision working with anyone else! 
TIP: To view some sample Real Estate Buyer Presentation templates, this article on Examples has some ideas.  
What's Next?
Are you ready to start taking things to the Next Level®? If you don't already know what you need to do to get to your next level, we can help!  
Power Agents®, for more examples of dialogues, metaphors, and analogies, and tips for creating an amazing Buyer Presentation, check out the Buyers tab in the Classroom. Whether you need a boost of confidence or empowering strategies, Darryl will help you get the skills you need to be the go-to agent for the buyers and sellers in your farm area. 
Not yet a Power Agent®? Did you know that for LESS than the cost of a Starbucks coffee, you can have access to hundreds of marketing, prospecting, and objection handling tools – live weekly coaching, podcasts, webinars, and more?  
Start your Power Agent®  trial and have total access to every tool we have including letters, dialogues, training tips, webinars on-demand, eGuides, and marketing tools for just $5. 
Contact our team today to sign up or get the answers you need: (800) 395-3905!