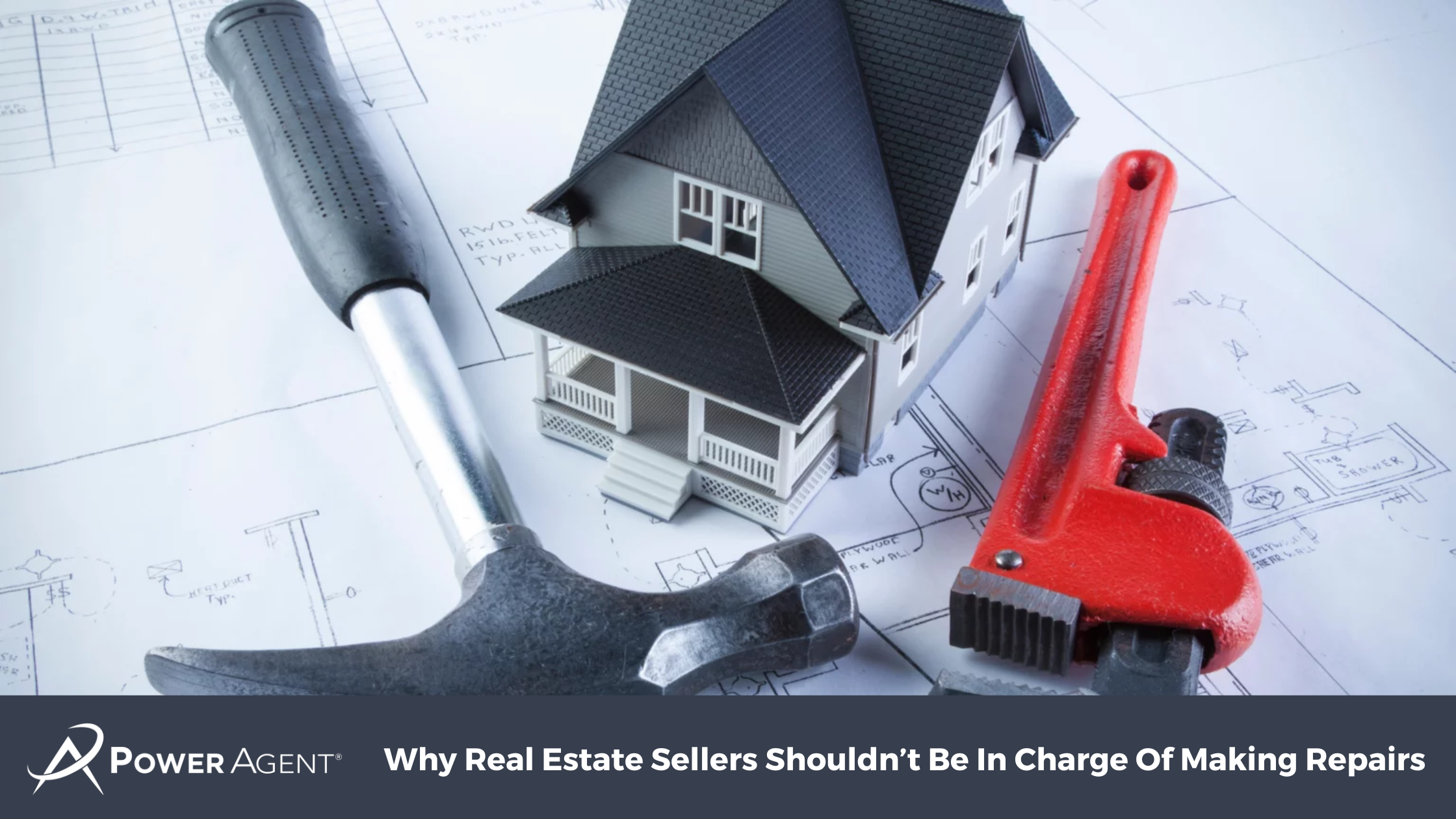 November 20, 2021
Why Real Estate Sellers Shouldn't Be In Charge Of Making Repairs
Whether you represent the buyers or sellers, problems can arise come closing date because the expectations and commitment to repairs differs from one party to the other.
Closing on a deal can be stressful, and that stress grows exponentially when it gets delayed because the sellers didn't complete the repairs as they were supposed to. One of our Power Agents® was sharing with me recently about how she was representing the buyers, and she had made it clear during a face-to-face meeting that these sellers needed to use licensed contractors to make the repairs as outlined in the contract. They agreed and signed. 
Now, these sellers aren't providing any receipts for the work that has been completed, and making excuses to why some things still aren't repaired, and this agent suspects they are trying to do all the work themselves rather than hired the licensed contractor as agreed. She (and the buyers) are getting increasingly frustrated. 
TIP: Read this article by David Aazam on why DIY repairs aren't a good idea. 
How To Avoid These Problems
There are a number of potential problems that can arise when the seller is responsible for making the repairs to the property, and they can easily delay, and even kill a deal. What I recommended to this Power Agent® do for these buyers was to give them some credit back instead of having the sellers make the repairs and fighting over the work and inspections. I suggested renegotiating the deal to find a number that both sides are happy with which would allow the buyers to hire professionals as they wish. 
The Psychology of the Seller
I'm sure most agents have experienced something similar to this — a seller who isn't pulling their fair share — and we can only shake our heads and wonder why they are doing (or not doing) what they are supposed to? 
It's because they've sold the house and they don't care about it anymore. Now they are in charge of repairs rather than the person who's going to be living in this home, which means that the buyer is going to be forced to put up with the repair the way it was done. Their perceptions and commitment regarding these repairs are different than the seller, who no longer cares what shape the house is in.  
How To Handle The Issue Of Repairs
If your buyers are putting in an offer and the house needs something fixed, don't ask the seller (who doesn't give a darn about the house anymore) to fix it because it's almost a guarantee that it won't be done properly, or to the satisfaction of the buyer. It's better to adjust the offer accordingly to account for repairs and have the buyer in charge of how to make those repairs. 
TIP: One company that we highly recommend is Curbio (though they are not yet available in all areas). This article talks about what they can do for buyers and sellers. 
Other Issues To Be Aware Of
What can happen in situations like this is that people can lose sight of what's really important when they see that there are repairs that need to be made, or appliances aren't staying, etc. Sometimes people are all too ready to die on that hill for these little things and it can cost them the whole deal. This is when they need the reminder that in the grand scheme of things, these aren't big issues, and that they love this house, and this is their Next Level®. 
What's Next?
Are you ready to start taking things to the Next Level®? We have everything you need to develop new skills and master the ones you already have!  
Power Agents®, for some great ideas on how to get the best deals for your buyers and sellers, take a peek at the amazing content in the Negotiating Offers tab in the Classroom.  
---

Get the latest real estate training tips delivered to your inbox!
Not yet a Power Agent®? Did you know that for LESS than the cost of a Starbucks coffee, you can have access to hundreds of marketing, prospecting, and objection handling tools – live weekly coaching, podcasts, webinars, and more? Check out this FREE resource: 11 Powerful Ingredients for Successful Real Estate Farming: Farming Field Guide for Today's Real Estate Agents!  
Start your Power Agent®  trial and have total access to every tool we have including letters, dialogues, training tips, webinars on demand, eGuides, and marketing tools for just $5. 
Contact our team today to sign up or get the answers you need: (800) 395-3905!