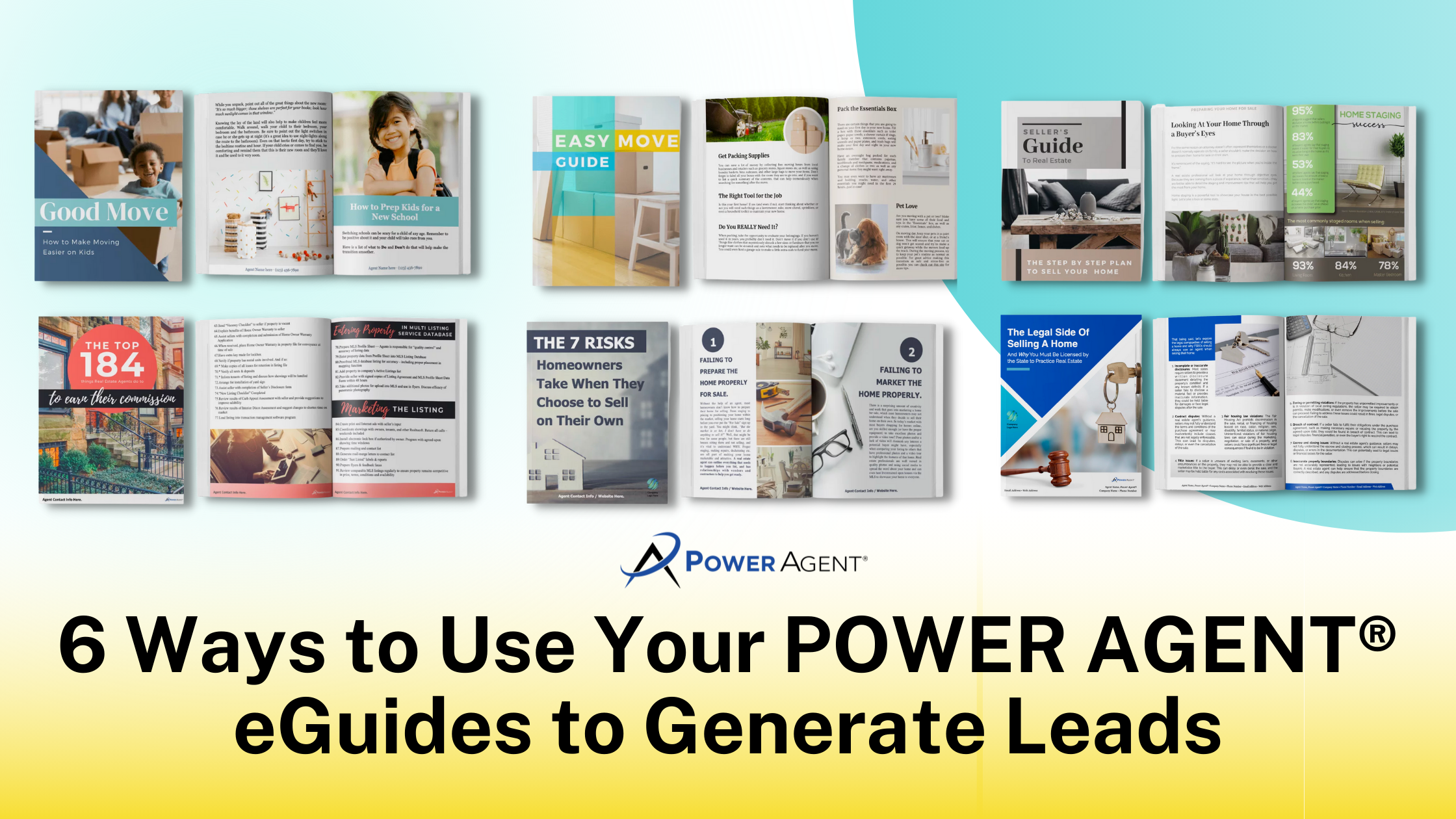 September 21, 2023
6 Ways to Use Your POWER AGENT® eGuides to Generate Leads 
Top Real Estate Agents use powerful collateral marketing tools such as eGuides to set themselves apart as a trusted resource in their markets.
Looking through all the content in the Power Program® can quickly become overwhelming, especially to new real estate agents. There are A LOT of eGuides, we know because we wrote them all! While going through them all can feel a little (or a lot) intimidating, fear not!    
These eGuides are here to help you build your business by making you look like a PRO. So, where do you start? How can you put these guides to their best use?  
Where To Start
Many agents ask which ones to start with, and to be honest, there is no right answer for that! As you look through them, some will stick out to you more than others, so choose one that you really love! If the eGuide excites you, that enthusiasm will always come through, and it will excite your potential client as well.  
So, you have picked a Guide that you love, and you are ready to share it with the world! Let's take a peek at just a few ways we create some touch-points and put these guides to work. 
1. Use To Capture Leads on Your Website
Your website is your online home, and these eGuides are the cupcakes that you offer your guests. You can have the link to the guide on the main page, or create a dedicated page to this guide where guests can download their copy. Your advertising should also direct your online traffic here where interested parties can get their free copy, as well as give them a chance to get a sense of who you are (and how you can help them!) 
TIP: Read "The 5 Components of the Best Agent Websites" for help building a website that gets noticed! 
2. Use It In A Social Media Ad Offer
Creating a Facebook ad has never been easier and using one of these eGuides as a lead generation tool to entice potential clients to click your ad to receive your offer of value can help drive traffic to your webpage. Facebook and Instagram also share a platform, so an ad on Facebook will also display on Instagram.  
TIP: This related article, "How To Leverage Social Media as a Real Estate Agent" is helpful for using social media tools to their greatest advantage. 
3. Use Printed Copies to Hand Out
Whether you are manning an open house or using this guide as part of a "New Client Packet," having printed copies is a smart idea.  Many agents print one or two guides for their open house, then make a sign with a QR code that can direct open house attendees to a lander where they can get their own copy. Since all of our guides have a place for you to customize them with your contact information, these professionally designed pieces make you look like you created them personally.  Many agents use these printed copies to leave with homeowners after a listing conversation or to have handy when knocking on doors to provide something of value to buyers and sellers. 
TIP: Read "The 3 Touch-Point Marketing Plan to Connect With Your Sphere and Farm" for some great tips on marketing and self-promotion. 
4. Mail Out Postcards with the Guide Offer
Using Direct Mail Marketing, send a postcard that offers one of our guides. Whether the call to action is for them to call you directly, or hop online to your website for their free copy, this is an easy way to qualify who is ready to (or considering) buying or selling a home.  
Tip: Check out this related article, "The 3 Phases of Buyer Readiness and What It Means For You" 
5. Use LinkedIn To Share The Love
LinkedIn is one of the more underutilized forms of social media, but can be one of the most effective! By posting the offer for this guide also allows for other members of LinkedIn to share the post with people they have in their own network, spreading the love (and your name) far and wide. Pay attention to people who comment on it and share it, as those are people who are seeing the value in the info you are providing, as well as you as a real estate agent. 
TIP: Check out the eGuide: "LinkedIn: 13 Easy Steps For Real Estate Agents" found in the Tech Tools & Training tab of the Classroom.   
6. Build an Email Campaign Around the eGuide
By creating an email campaign with the help of your CRM, you can send out this guide to your sphere and farm as a valuable piece of information, as well as creating a touch-point to help establish your value as a real estate professional. From the initial offer, to following up, to touching base again later, this campaign can be fully automated, leaving you time to show homes and make phone calls.  
TIP: Read "You've Got a CRM, Now What?" for strategies and tips to setting up automated email campaigns. 
These are only 6 of the countless ways you can use the plethora of eGuides available to you in the Power Program®, and with countless brainstorming sessions with our Power Agents®, we continue to add more great ideas! The sky is the limit when it comes to all the ways you can wow your potential and current clients, winning listings and referrals as you prove your worth daily! 
What's Next?
Are you ready to start taking things to the Next Level®? If you don't already know what you need to do to get to your next level, we can help!  
POWER AGENTSs®, for more strategies and tools for handling all the objections and differences in opinion from buyers, check out the amazing content in the Power Program® Classroom in the Classroom.  Whether you need a boost of confidence or brilliant dialogues, we are here to help you get the skills you need to be the go-to agent for the buyers and sellers alike in your farm area. 
---

Get the latest real estate training tips delivered to your inbox!
Not yet a Power Agent®? Did you know that for LESS than the cost of a Starbucks coffee, you can have access to hundreds of marketing, prospecting, and objection handling tools – live weekly coaching, podcasts, webinars, and more?  
Start your Power Agent®  trial and have total access to every tool we have including letters, dialogues, training tips, webinars on-demand, eGuides, and marketing tools for just $5. 
Contact our team today to sign up or get the answers you need: (800) 395-3905!