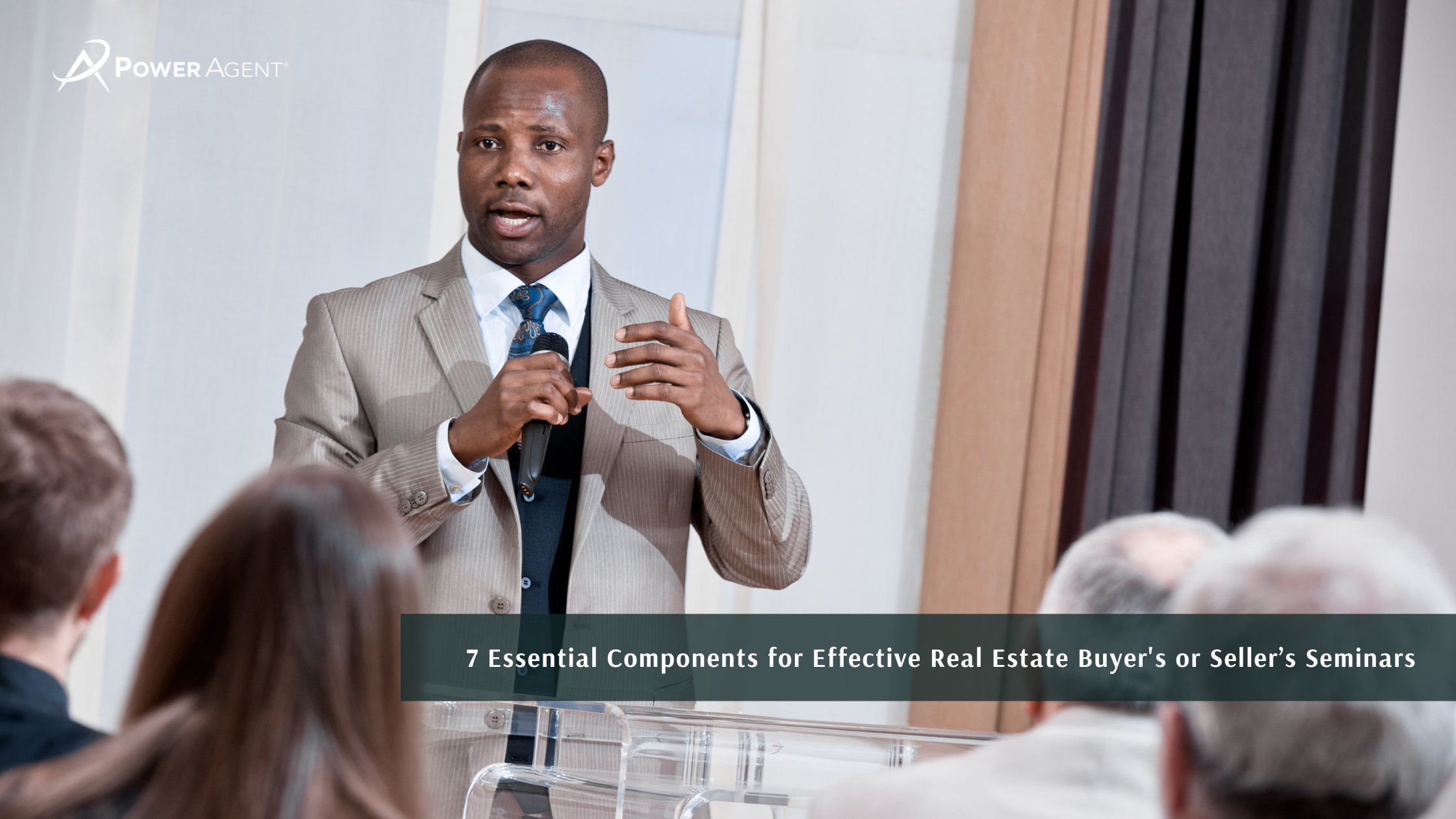 March 3, 2023
7 Essential Components for Effective Real Estate Buyer's or Seller's Seminars
Hosting local buyer and seller seminars is a solid strategy for building your client list, generating new listing and buyer leads, and branding yourself as a real estate expert in your area. 
We love to see agents get into training mode and take on the educator role. There is tremendous power in presenting yourself as a trusted and knowledgeable resource in your market with immediate answers to consumers' questions. The best part? It doesn't even have to be that complicated or costly to do! You could have a big hit on your hands with a few industry vendor friends and a little planning.  
Let's dive into the components that can help ensure your event is extraordinary!  
Establish an Objective.

Before hosting any sort of presentation or event, it is important to understand your "why." Why are you doing this? What do you hope to achieve from the seminar? Who is your audience? What do you want to teach? Are you eager to help investors learn more about purchasing properties? Are you hoping to attract more of your chosen

niche market

to share solutions to their unique problems? Is your focus on sellers who want to get the best return on investment in today's market? Determine your target audience and your topic first.

Choose a Date.

Picking a date is one of the most important steps when planning your buyer's seminar. You want to make sure you choose one that works best for you and your target audience and doesn't conflict with holidays or other special events. Also, consider that some days may be more popular than others depending on who your target audience is (for example, Wednesday nights may be better for working professionals, whereas a weekend might be better for families). Also, choose a date far enough in the future that you have time to market the event effectively and your audience has time to make arrangements to attend.

Pick Your Venue. 

Choosing the right venue for your real estate seminar can greatly impact its success or failure. When selecting a location, think about factors such as accessibility, capacity, and catering options so that you can ensure that everyone will have fun, learn a lot, and socialize at your event. While most agents immediately think of hosting the event in their office, that can feel "sales-pitch-centric" for consumers. Instead, consider a local library, community center, restaurant, or museum. Many schools also rent out cafeterias or space as well. This may go hand in hand with choosing your dates, as venue availability may affect your date and time.

Create Promotional Materials. 

Promotional materials are key in helping spread the word about your upcoming event and driving up attendance numbers! Consider creating flyers and posters with information about the event — including time/date/location details and highlights from what attendees can expect from attending —and distribute them around town or post them online (on social media sites/forums). Also, don't forget about social media and email marketing; email blasts about your upcoming event. These are great ways to get people excited! POWER Agents®, if you need promotional materials for buyers, sellers, investors, or any other niche, head to

our

POWER Program Classroom

for 700+ pieces you can use in your business!

Plan Your Presentation. 

Now it is time for you to plan out what exactly will happen during the actual seminar itself. Consider topics that would be relevant and interesting for potential buyers and sellers; consider focusing on things like mortgage rates, home buying tips, and tricks, local market trends, etc. This is where your industry friends come in! Invite two or three to join you and divide the time so each can present their piece of the real estate equation to the audience. This takes the pressure off you to be up and talking the whole time, and it helps these other industry experts get leads for themselves! Make sure you save some time for a Q&A portion at the end to give your guests time to ask questions.

Prepare Handouts. 

Handouts can be handy during seminars as they provide something tangible that attendees can take away afterward—which could be useful if they decide they want further information after they leave! Consider including sample contracts/forms or information sheets with relevant facts/stats regarding local real estate markets, moving checklists, and so on. Be sure not to overload them with too much content, though—you want enough material to give attendees something useful but not too much where it becomes overwhelming or confusing! Don't forget to include your branding, name, contact information, and an invitation to connect after the seminar. POWER AGENTS, we LOVE the Sellopoly and Loanopoly Boards in your classroom for a family-friendly handout.

Follow Up Afterward. 

Following up after an event is just as important (if not more) than pre-event promotion. Consider sending out emails thanking those who attended or offering additional resources if needed; this shows them that their presence was appreciated and that they weren't "just another face in the crowd." This personal touch will help build rapport now that they have seen your expertise! Additionally, follow up with those who didn't attend by asking why they couldn't attend. This can help you gauge if there is anything you could do differently next time around. Getting feedback on what they liked and didn't like will help you improve for next time, and your guests will feel honored that you care about their opinion.
Related reading: Quick Guide: How to Host a New Homeowners Workshop 
A successful real estate buyer's or seller's seminar requires careful planning and consideration of all aspects involved in order for it to go off without a hitch! By taking the time to determine your objectives and plan the event well, you will be able to gauge its success, not to mention gain more clients! By keeping these seven essential components in mind while preparing for your next event, you can set yourself apart from other agents in no time!  
Calling All Real Estate Agents!   
 Are you ready to start taking things to the Next Level®? We have the tips, tricks, and tools you need to find success…no matter what kind of market we're in!  

For more resources and weekly trainings, head to our resources!
 POWER AGENTS®, you can check out the Buyers or Seller's tab in the Classroom to help you plan, promote, and celebrate your first real estate seminar! Whether you need inspiration, motivation, or validation, we have it!   
Never Miss a POWER AGENT® Training Event Again! Click here to subscribe to our BRAND NEW Calendar feature! Training, brainstorming sessions, and top agent interviews will automatically be added to your calendar, so you never miss out.    
---

Get the latest real estate training tips delivered to your inbox!
Not a POWER AGENT® yet? Give us a go! This comprehensive program provides affordable coaching, training, and customizable marketing tools for real estate agents. It's proven to help thousands of agents significantly boost their listing inventory, solidify their business, cultivate lifelong customers, enhance authenticity and confidence, reduce stress, and craft fulfilling careers and lives.
Start your POWER AGENT® trial and have total access to every tool we have, including letters, dialogues, training tips, webinars on demand, e-Guides, and marketing tools.     
Contact our team today to sign up or get the answers you need: 631-929-5555!