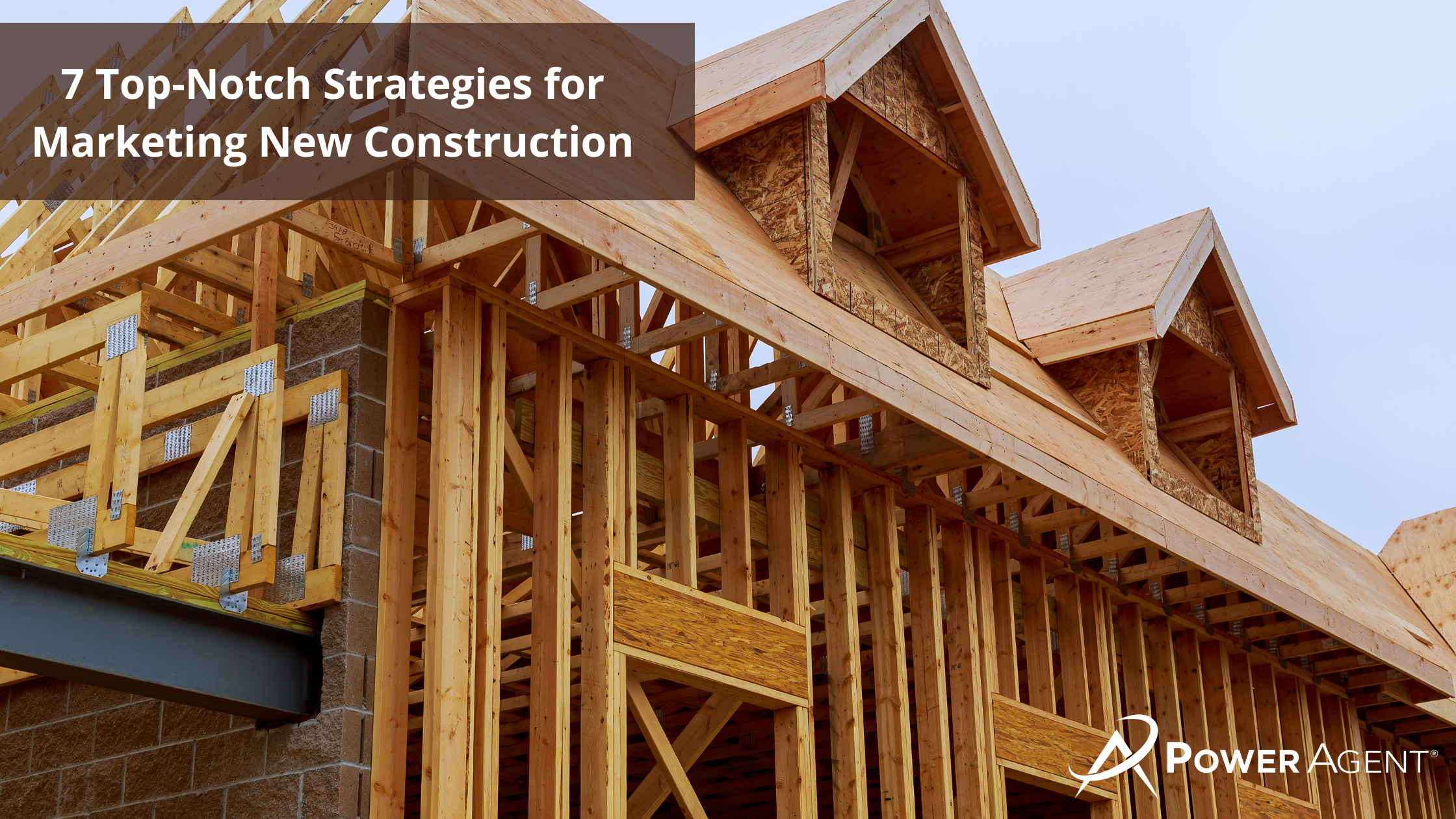 December 8, 2022
7 Top-Notch Strategies for Marketing New Construction
Marketing new construction and working with builders to sell their homes is a great niche, but it can be tough to break into before builders get to know you.
How to Market Yourself to a Builder You Want to Work With
Before you can start marketing new construction, you need to gain the trust and confidence of the builders, and there are two ways you can do that: 
Offer to market one of their models or one of their homes that haven't moved at all.

This acts like an "audition" for you so they can see your skills. After all, those homes are sitting there, literally "dead wood." You can say: "This house isn't selling. You've tried everything, and right now, you have nothing to lose. What about giving it to me, and let's see what I can do with it?" 

Find vacant land to sell to the builders.

Builders are busy, and they don't often have the time to spend looking for vacant land to build on. They are wrapped up in getting their homes built and trying to sell those homes. So, after prospecting for vacant land, when you take that listing to the builders, you can go to them and say: "I just came across a piece of land. I wanted to call you first to see if you were interested in it, and if not, that's OK. I have a list of other builders I can call, but I wanted to reach out to you first to see if there was something you wanted to do with it." No builder wants to let go of a potential block of land to their competitors, and by taking care of this part of their business for them, they will love you!   
You can create a contract, just like a pre-listing agreement with this builder, that ensures you get a commission for any land you bring them and that for any homes they sell, they will use you as their listing agent.
Related reading: How to Approach a Builder You Want to Work With 
Marketing New Construction to Buyers
So, you've won the hearts and minds of your favorite builder and established a great working relationship. As they complete the construction of homes and hand them over to you, it's now time to market these homes and get them sold. In many ways, marketing these is a lot like marketing any other home, but there are a few extra things to focus on that will help new homes sell faster.  
Market the neighborhood/development

.

You are marketing more than just that one home; you are marketing the whole development with a focus on that one home. Perhaps some buyers aren't crazy about that particular home but are interested in the neighborhood. Developing rapport with them now will give you a potential buyer for another home in that development later. You can focus on the amenities this neighborhood has and how this community would be a good fit for them.

Create a dedicated website for these newly built homes from this builder

. While you might have a website already to showcase your other listings, having a dedicated page or website to highlight amenities, recreational activities, and easy access to major highways or roads to get your buyers around town allows you to showcase each listing in that development as much as the neighborhood itself. The builders are constructing the buildings, but you can create a sense of community for interested buyers. You can include floorplans, computer renderings, elevation information, and builder credentials. 

 

Host open houses

. Just like you would while promoting any other home,

hosting an open house

for a new listing is a great way to show off the new home and gain leads for those interested in purchasing a newly constructed home.  If you are showing a model home, you can also point out floorplans, decorating allowances, and customization options. 

 

Market using your social media

. Posting images and video clips of the home and neighborhood and promoting them using social media will give you a lot of reach, particularly to potential buyers who don't live in the same city. For your listings that haven't been completed, you can also post progress reports with photos to help stimulate interest in the home and the neighborhood.

 

Sign up for Home and Garden Shows

.

Most cities across the nation host a 

Home and Garden Show

at some point in the year, if not multiple times. Getting a booth to showcase your homes or adding your listing to the tour of available homes will give your listing and the development increased exposure to a lot of people who are interested in the purchase of a newly built home. 

Create virtual tours to showcase your listing

.  Posting short "Teaser trailers" on social media and including a virtual tour on your website is a great way to show the home, particularly to people who don't live in the area. You may want to only post a tour of one floor with a call to action for viewers to contact you to see the rest of the home. 

 

Highlight the New Home Warranty

. Every builder offers a

New Home Warranty

to give potential buyers confidence and peace of mind, which can be a great marketing tool for buyers who might be hesitant to purchase. These warranties often provide coverage for 2 to 5 years and will cover such things as defective installations, code violations, and sometimes even pool, spa, and other customizable option problems.

 
As builders have been working hard to help add more housing inventory to a threadbare housing market, with the increase in interest rates and the slowing of sales, there are plenty of new homes that need to be sold, and these builders need your help to do that! 
Calling All Real Estate Agents!
Are you ready to start taking things to the Next Level®? We have the tips, tricks, and tools you need to find success…at any age!    
POWER AGENTS®, you can check out the Buyers tab in the Classroom to help you market to and attract potential buyers. Whether you need inspiration, motivation, or validation, we have it!    
Never Miss a POWER AGENT® Training Event Again! Click here to subscribe to our BRAND NEW Calendar feature! Training, brainstorming sessions, and top agent interviews will automatically be added to your calendar so you never miss out.    
---

Get the latest real estate training tips delivered to your inbox!
Not yet a POWER AGENT®? Did you know that for LESS than the cost of a Starbucks coffee, you can have access to hundreds of marketing, prospecting, and objection-handling tools – live weekly coaching, podcasts, webinars, and more?      
Start your POWER AGENT®  trial and have total access to every tool we have , including letters, dialogues, training tips, webinars on demand, e-Guides, and marketing tools for just $5.     
Contact our team today to sign up or get the answers you need: 631-929-5555!