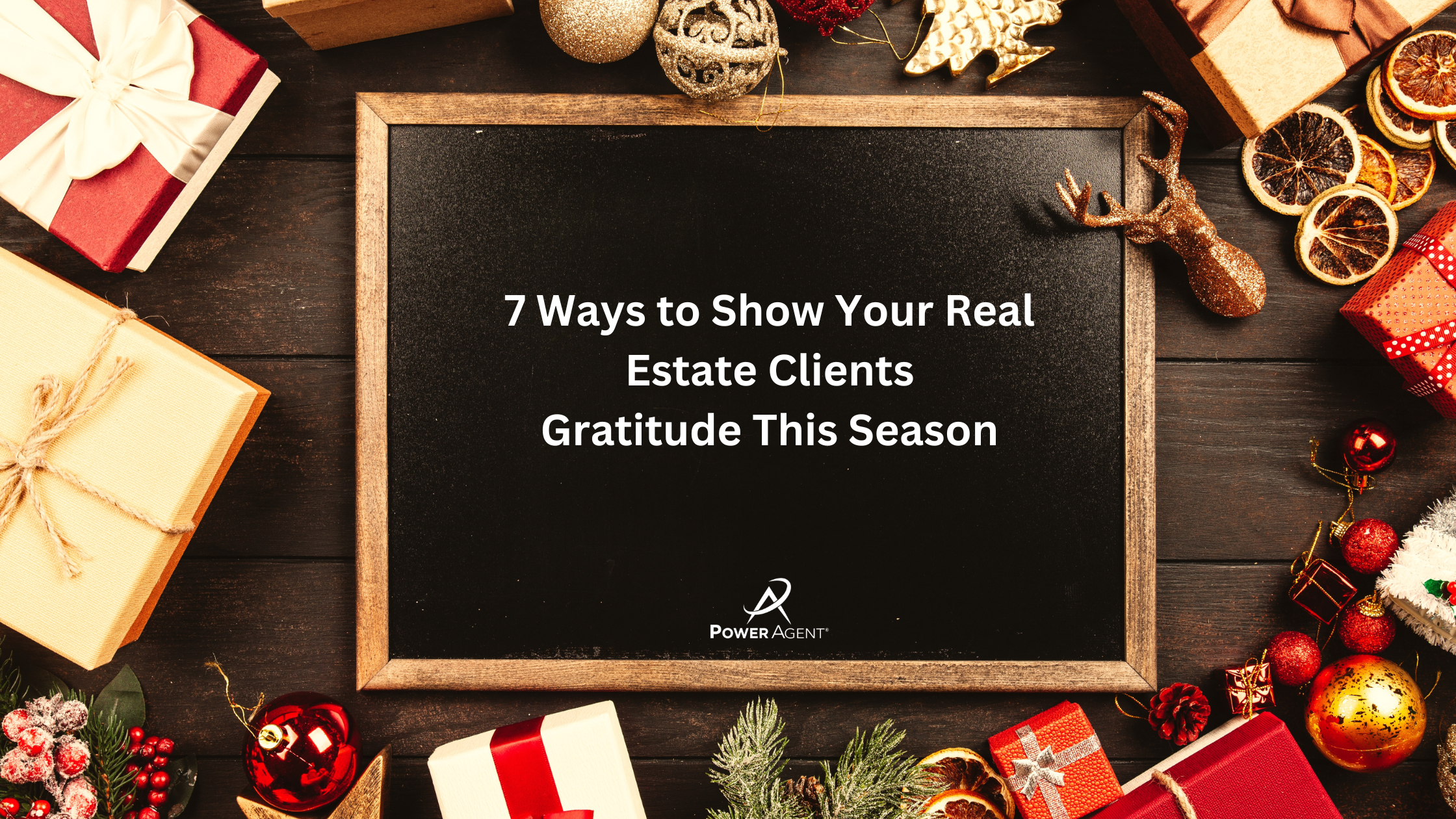 November 18, 2022
7 Ways to Show Your Clients Some Gratitude This Season
Now is the perfect time to show your real estate clients some extra love and appreciation. Here are seven creative ideas to get you started.  
The leaves are changing, the air is crisp, and pumpkin spice everything is back—and the holidays are in full swing! Let's dive into some APPRECIATION marketing!
Paul Bloom, a Canadian psychologist, once said, "We are constituted so that simple acts of kindness, such as giving to charity or expressing gratitude, have a positive effect on our long-term moods. The key to the happy life, it seems, is the good life: a life with sustained relationships, challenging work, and connections to community."  
Showing gratitude to those who have helped design the success that we enjoy creates that happy life, not just for ourselves but for the clients we serve. 
Related reading: 4 Tips to Show your Clients Gratitude This Year 
Related reading: Placester – 20 Memorable Ways to Show Real Estate Clients You Love The
Here are 7 ways that you can share the attitude of gratitude this holiday season:
Host a fall-themed open house at your office.

Decorate your office or place of business with warm colors, cozy blankets, and fall foliage. Serve seasonal drinks and snacks like hot apple cider and pumpkin spice cookies. This is a great opportunity to catch up with clients and let them know you're thinking of them during this busy time of year.  
Related reading: The Magic of Inviting Your Clients to Your Office This Holiday Season  
Send a fall-themed care package.

Fill a basket with all the fixings for a perfect autumn evening—a cozy throw blanket, a copy of their favorite book, candles, and some tasty fall snacks. Add a handwritten note letting them know you're grateful for their business and refer them to your latest blog post for tips on enjoying the season or your favorite thanksgiving recipe.  

Give them the gift of experience.

Tickets to a football game or a day at an apple farm make great gifts that keep on giving. Your clients will appreciate your thoughtfulness, and they'll have lasting memories with their loved ones, thanks to you. 

Offer discounts on fall services.

Many people use the cooler months to spruce up their homes before the holidays hit. Offer discounts on things like painting, window washing, or lawn care services—your clients will love getting their homes ready for the season while saving some money in the process!  

Organize a charity drive.

The holidays are fast approaching, which means it's time to start thinking about giving back to those less fortunate. Host a food drive, coat drive, or toy drive at your office and invite clients to participate. They'll appreciate your charitable spirit, and you can feel good knowing that you're helping your community during the holiday season.   

Write a personal thank-you note.

Sometimes the simplest gestures mean the most—take some time out of your day to write your clients a personal thank-you note expressing your gratitude for their business. They'll be touched by your thoughtfulness, and it only takes a few minutes of your time!  

Take them out for coffee or lunch.

Catch up with clients over coffee or lunch this fall—it's the perfect opportunity to chat about life outside of work while deepening your relationship with them. Plus, who doesn't love an excuse to enjoy some pumpkin spice lattes?  
Related reading: Embrace Home Loans – 8 Thank You Notes to Show Your Client Gratitude  
Fall is an excellent time to show your clients some extra love—and there are endless opportunities to do so! You can show your clients how much you appreciate their business while getting into the festive spirit yourself! What are you waiting for? Start thinking about how you can show your clients some fall love today!  
POWER Agents®: We have a ton of tools and SMILE Stop™ ideas in the Classroom, including these all-new holiday ideas! You'll also find a plethora of items of value for you to share with your clients and not-yet-clients in your farm area. We know that taking care of our past clients is key to our success — real estate is a people business, and building and maintaining those relationships is the most important thing we can do.  
---

Get the latest real estate training tips delivered to your inbox!
 Calling All Real Estate Agents!    
Are you ready to start taking things to the Next Level®? We invite you to participate in our NEXT LEVEL Real Estate Event in January! It's three game-changing days of skill-building, tools, world-class speakers, and solutions for making 2023 YOUR breakthrough year! 
Not yet a POWER AGENT®? Did you know that for LESS than the cost of a Starbucks coffee, you can access hundreds of marketing, prospecting, and objection handling tools – live weekly coaching, podcasts, webinars, and more?         
Start your POWER AGENT® trial and have total access to every tool we have , including letters, dialogues, training tips, webinars on demand, e-Guides, and marketing tools, for just $5.     
Contact our team today to sign up or get the answers you need: 631-929-5555!