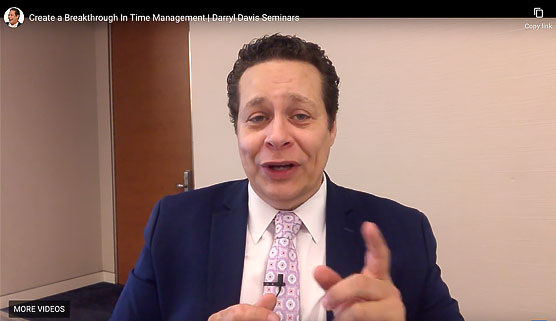 October 27, 2019
Creating a Time Management Breakthrough
POWERFACT:  When we live from our commitments, anything is possible.
To be effective, the answer is not always a better system, new software, or the latest app. One of the characteristics of people who get a lot accomplished in short periods of time is they are passionate about what they want to accomplish. They are almost maniacal about what they are committed to bringing into the world. So the answer to creating miracles in time management, is not looking outside of you, but looking inward…looking at the question "what am I committed to?' "What can I commit to that will bring passion to my actions?"
As we close in on the end of the year, having smart time and business management strategies and tools is essential. That's why we've put together a few important pieces for you to review this week: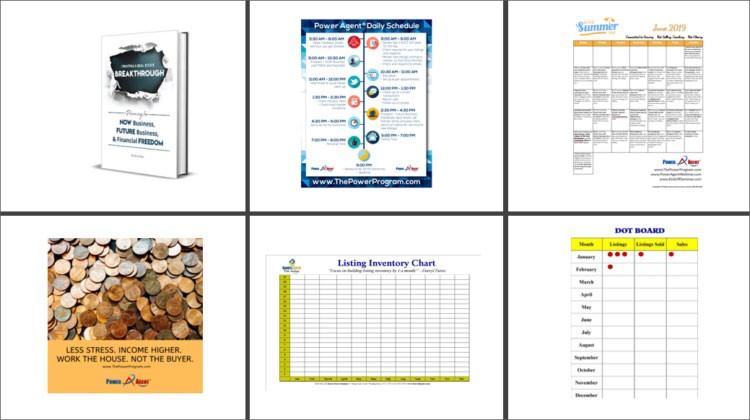 Breakthrough Business Plan:  We recommend you revisit your business plan monthly. That said, if you haven't recently reviewed where you are in relationship to your goals, this is a great time to do that! Power Agents, find your tools in the Time and Money Management tab in your classroom. You may want to revisit the webinar on demand as well. If you haven't yet joined our coaching group, you can learn more about it and download this comprehensive business plan at MyPlanForSuccess.com.

New Daily Schedule Infographic:
  Perfect for helping you visually see a very balanced daily plan for designing a life and career worth smiling about.
June Power Agent Calendar:  Every month we put together a calendar of agent action items for our Power Agents that help you stay focused, committed, and of course — successful! Every day shares a specific task that can help you move the needle on your monthly goals.
Shiny Penny Concept for Buyers:  Hands down the best way to approach buyers without losing a lot of time, effort, money, and energy! The concept is simple – the results enormous! Read all about how to implement this strategy here.
Listing Inventory Chart: This is a powerful tool to help you visually see where you are in relationship to your listing goals every month throughout the year. Read how to use it here. 
Motivational Dot Board: Another powerful visual tool to help keep you on track for your goals. Read how to use it here. 
Power Agent Coaching Calls:  If you've not yet joined us for our weekly Monday morning Power Hour Coaching calls – you're missing out! Together we problem-solve, answer questions, share dialogues, talk about what's working and what's not, and deliver ideas and insights. Head to the Coaching Call Tab in your classroom to get your login credentials.
Power Agents® — If you're ready to take a good look at your goals and your commitment to them, let's do this together. We're here as a resource to help you grow your business. 
If you're not CURRENTLY a Power Agent, now's the time to try us for just $5 the next 30 days!
You can download all of these tools and resources and jump on our next call at absolutely no cost. Your 30 Day Trial gives you total access to every tool we have including letters, dialogues, training tips, webinars on demand, eBooks, and marketing tools.
Need help? Contact our team today at (800) 395-3905!