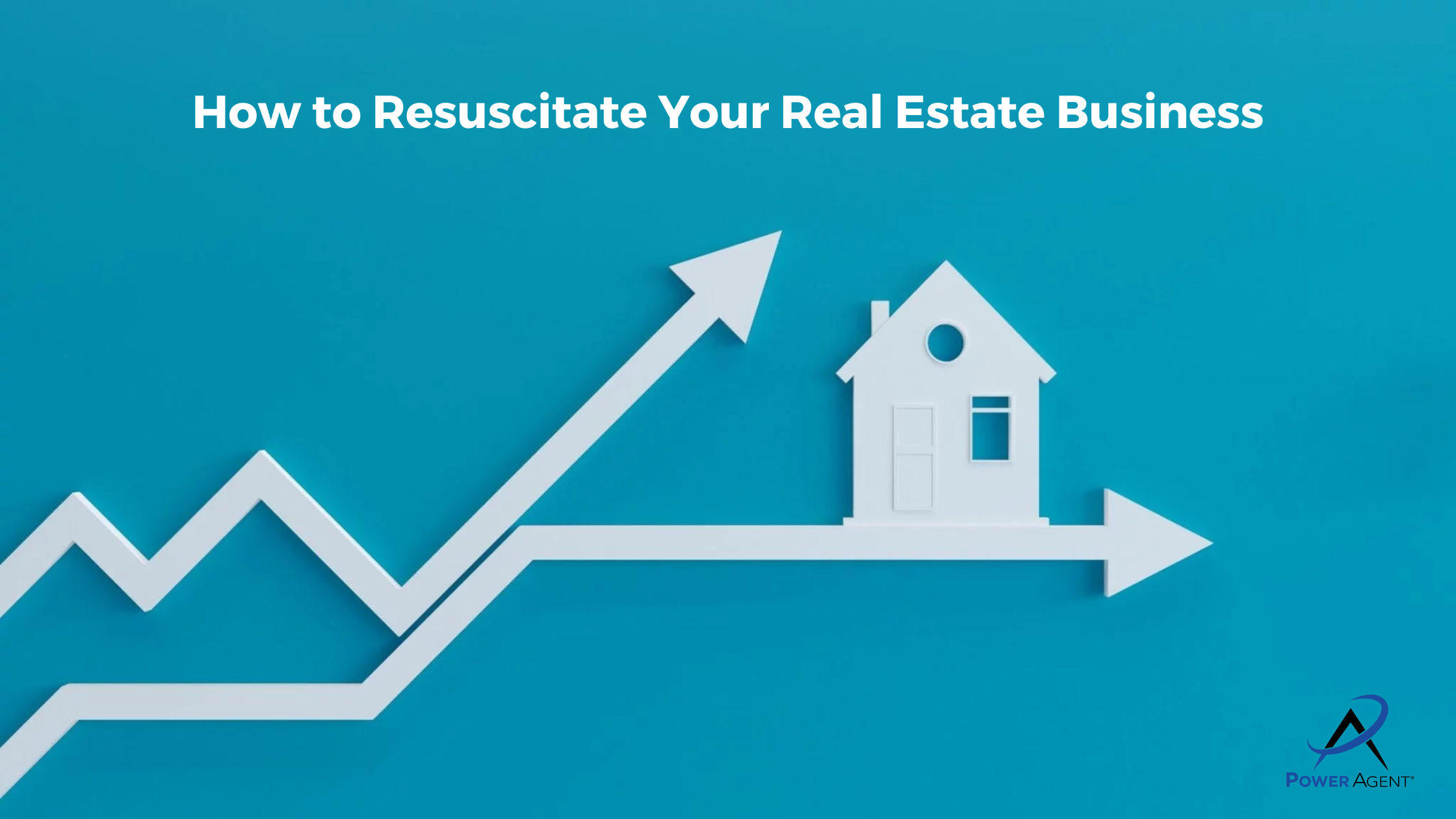 March 25, 2022
How to Resuscitate Your Real Estate Business
Does your real estate business need a pick-me-up? A lifeline? Here are some ways to rebuild your business without breaking the bank!

I have had a lot of real estate agents recently talk about needing a reboot, kick-start, or for some, even resuscitation! One agent recently admitted that her marketing was at a standstill because she didn't have the funds to invest, and she didn't want to dip into her personal savings because she still needed to pay the bills. 
Don't Spend Money You Don't Have
This is always Rule #1 in my book when it comes to marketing: don't spend money you don't have. The old adage of spending money to make money is very rarely true, especially in real estate when there are so many ways to market yourself without spending a dime.  
Start by hopping on the phone, because the phone doesn't cost you anything. Commit to prospecting every day for as much time as you can, but there is a caveat to that. Power Agents® have heard me joke about how my idea of working out is to fill up the bathtub, pull the plug, and fight the current! However, there are times when I do make a commitment to get a little healthier, so I start scheduling workouts into my day.  
Just like I don't enjoy working out, a lot of real estate agents don't like prospecting. So, when I try to create a habit of working out, I don't commit to an hour's workout on the first day. I commit to 10 minutes. I do those 10 minutes a day for a while, then start committing to 20 minutes a day. I do 20 minutes a day until I can commit to 30, then 40, and so on. It's the same with prospecting. If you are financially struggling, you don't want to set yourself up to fail.
Other Budget-Friendly Marketing Ideas
Posting social media content is also free, so creating posts with photos and short videos, as well as engaging with others in Facebook groups will get your name, face, and what you do for a living out in front of people.  I love the idea of becoming a voice and advocate on your farm area's neighborhood Facebook page. Check out this article about "digitally farming with Facebook"! 
TIP: Check out this related article on social media posting, "5 Important Tips For Posting On Your Social Media Accounts" as well as this amazing interview with social media expert Katie Lance. 
A cost-effective method of engaging with your past clients is through what we call SMILE Stops. This is a chance to take small but memorable gifts and create memorable moments! Here's a glance at April's! Power Agents® – you'll find SMILE Stop client pop-by ideas for every month and every season in the Farming tab of your classroom!  Have fun with them!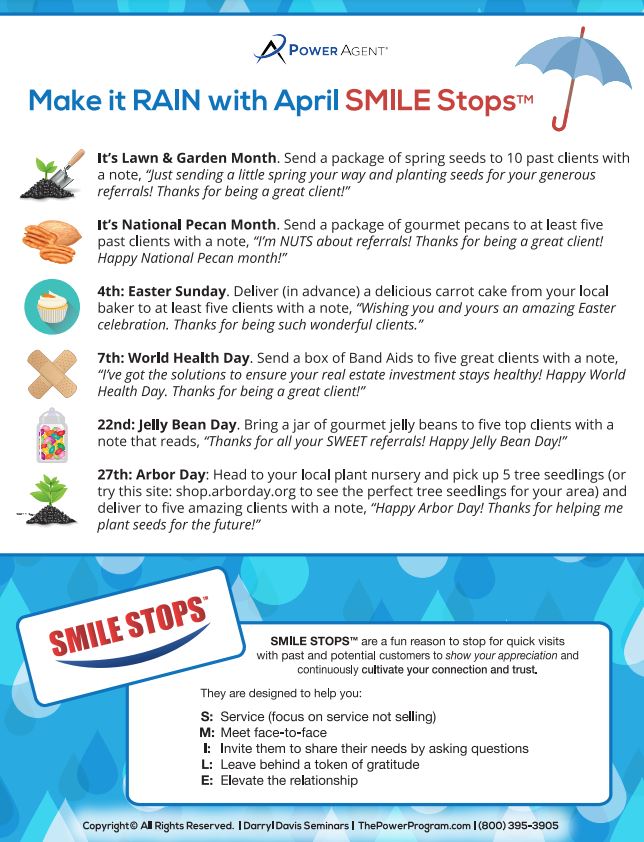 TIP: Read our article on Inman which dives into the details on using QR codes and Smile Stops in your marketing strategies.  
As the weather turns nicer, a walk through your farm area to knock on doors and introduce yourself to people is also something you can do- which costs next to nothing. Introduce yourself and offer neighbors a Free Neighborhood Market Report which will tell them what their neighbors paid for their homes and help them know what their home is worth in this market. Let them know that it's a great way to get an "annual checkup" on their investment!
TIP: Our article in RISMedia outlines some great ways to make door-knocking work for you! "The Secret to Door-Knocking Success." 
Call Your Book of Business
Consistency is a must. You can start by phoning past clients and offering an updated Market Analysis. Then don't stop there! Call friends, family, FSBOs, Expireds, FSBOs that took their homes off the market…the list goes on! You don't have to spend all day on the phone, but scheduling 30 minutes or so daily to make some of these calls will establish a good habit until it's a rock-solid habit. 
TIP: This article dives into some ways that you can be consistent in your day-to-day business: "How To Be A Good Real Estate Agent: Slow And Steady Wins The Race" 
A Simple Habit for A Financial Breakthrough
Anytime you need to have a financial breakthrough, there is one simple thing that you can do every single day that will transform your business: Have one conversation with a potential buyer, and one conversation with a potential seller every single day. It sounds too easy, doesn't it? Now let's do the math: 2 conversations a day means 60 conversations in a month. If you do this all year long, that will be 720 conversations. This isn't even including other prospecting, mailouts, and self-promotion! Can you imagine how your business might change through 60 conversations with buyers and sellers in a month? How many listings might you get out of that? How much courage will you get in facing your fears? How ingrained will this become as a habit?  How ready are you to commit to a breakthrough? Let's do it! We're here to help!
Power Agents®, for more strategies and tools for building your business, check out the amazing content in the Farming, Self-Promotion, and Mailings. With 600+ amazing pieces, you can use and customize, building your business has never been easier, or more fun!   
---

Get the latest real estate training tips delivered to your inbox!
Not yet a Power Agent®? Did you know that for LESS than the cost of a Vente cup of coffee, you can tap into some of the best real estate coaching in the business every week? 
Start your Power Agent®  trial and have total access to every tool we have including letters, dialogues, training tips, webinars on-demand, eGuides, and marketing tools for just $5. 
Contact our team today to sign up or to get the answers you need: (800) 395-3905!