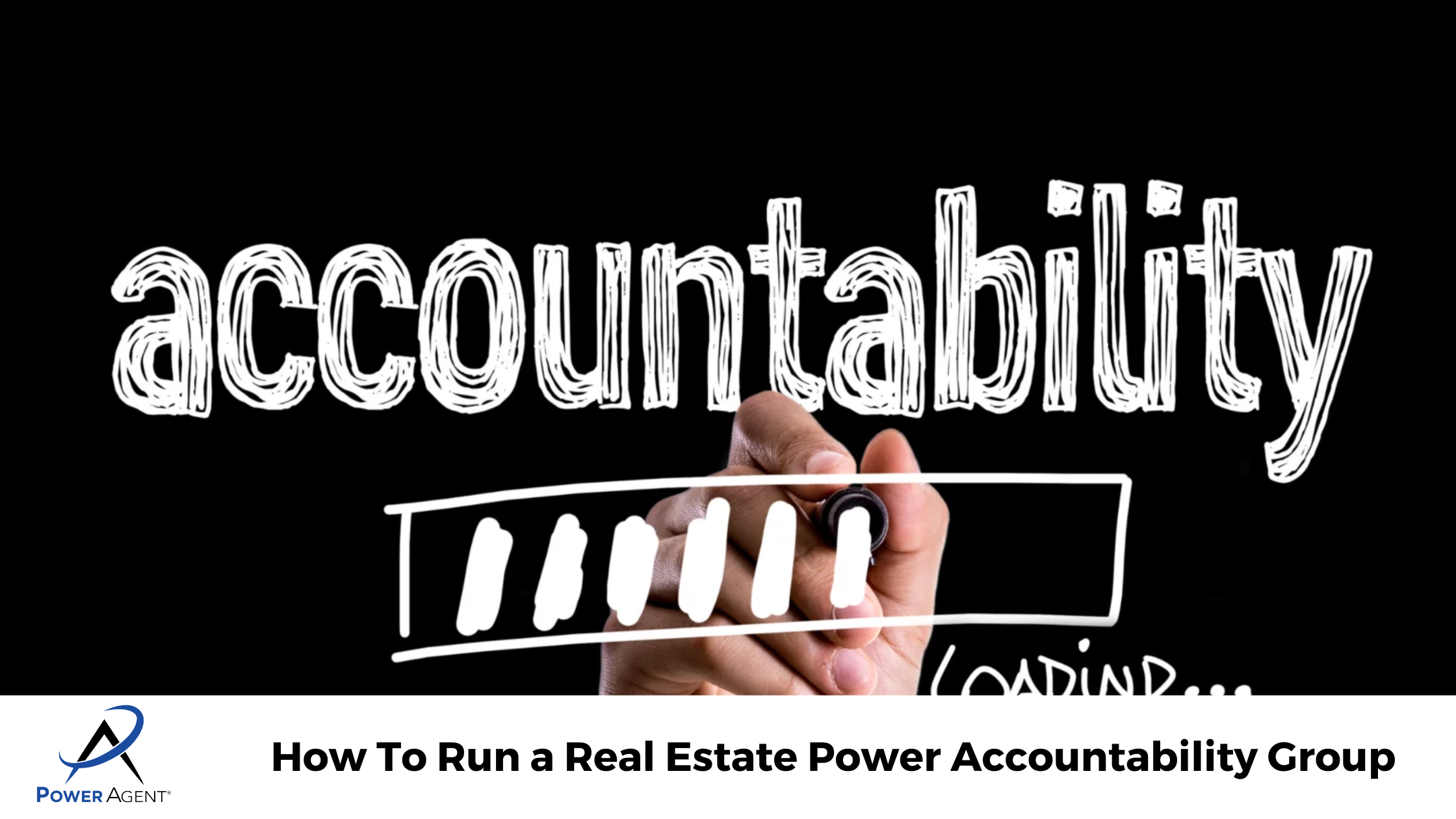 April 20, 2023
How To Run a Real Estate Power Accountability Group 
Accountability is one of the big reasons why Top Agents are at the top — they have learned the value of answering to others when committing to something and following though.
Something that I often taught, though it's been some time since I have mentioned it, was to encourage real estate agents to create accountability groups. I had one Power Agent® recently ask me about the best way to run one, since he thought it was something that would work well for his team and would allow them to keep each other productive through accountability. He also mentioned that they, as a group, wanted to plan ahead for whatever the market throws their way next, and they wanted some ideas on how to proceed. 
TIP: Read this article by Mui Tsun, "The Power of Accountability: How to Make Reaching Your Goals Almost a Certainty"  
The 3-Part Breakthrough Business Plan
Using a business plan to help guide the group through goal setting and business planning for 2022 is a good place to start, especially with a new group.  
Power Agents®, in the classroom, we have an eGuide called the Breakthrough Business Plan, which covers how to plan for generating now business, future business, and financial freedom. Essentially, it's three mini-plans in one major plan. There is also a single-page document there called the Easy Business Plan, which covers the basics of how to make $X a year after putting away retirement money, taxes, and survival income (which are your breakeven number after adding up all your business bills, personal bills, mortgage, utilities, etc.). These tools will be very helpful in getting started. 
TIP: Check out this related blog post, "How To Stay Focused On Your Goals." 
How To Host The Meeting
The best part about Power Group meetings is the accountability part. Essentially, you go around the room, and everyone takes about five minutes to share their breakdowns and breakthroughs, wins and losses, and the issues they are facing.  
Once they are done, the rest of the group acknowledges what they have said, sharing in their joy or offering suggestions or coaching that may help with some of the problems. After getting that feedback, the person sharing makes a promise to the group to implement one or two of the suggestions.  
When you come back to another meeting a week later, everyone gives an update on the promise they made to the group. It's also a good idea to have someone present to keep track of each agent and what they promise from week to week so nothing gets overlooked or forgotten. 
The Importance of Accountability 
Bob Proctor, a self-development speaker, and author, once said, "Accountability is the glue that ties commitment to the result." It's one thing to think, "I should do this," and another to actually do it, and having a group of people that hold you to the commitments you make will propel you into success like you would never see otherwise. 
TIP: For more tips on how to set up an accountability group, read this article by Pick The Brain. 
What's Next?
Are you ready to start taking things to the Next Level®? We have everything you need to develop new skills and master the ones you already have!  
Power Agents®, for some great ideas on how to create a community, set goals, and keep ourselves and others accountable, check out the Time and Money Management tab in the Classroom. Check out the Facebook group to connect with the Power Agent® community. 
---

Get the latest real estate training tips delivered to your inbox!
Not a POWER AGENT® yet? Give us a go! This comprehensive program provides affordable coaching, training, and customizable marketing tools for real estate agents. It's proven to help thousands of agents significantly boost their listing inventory, solidify their business, cultivate lifelong customers, enhance authenticity and confidence, reduce stress, and craft fulfilling careers and lives.
Start your Power Agent®  trial and have total access to every tool we have including letters, dialogues, training tips, webinars on demand, eGuides, and marketing tools.
Contact our team today to sign up or get the answers you need: (800) 395-3905!