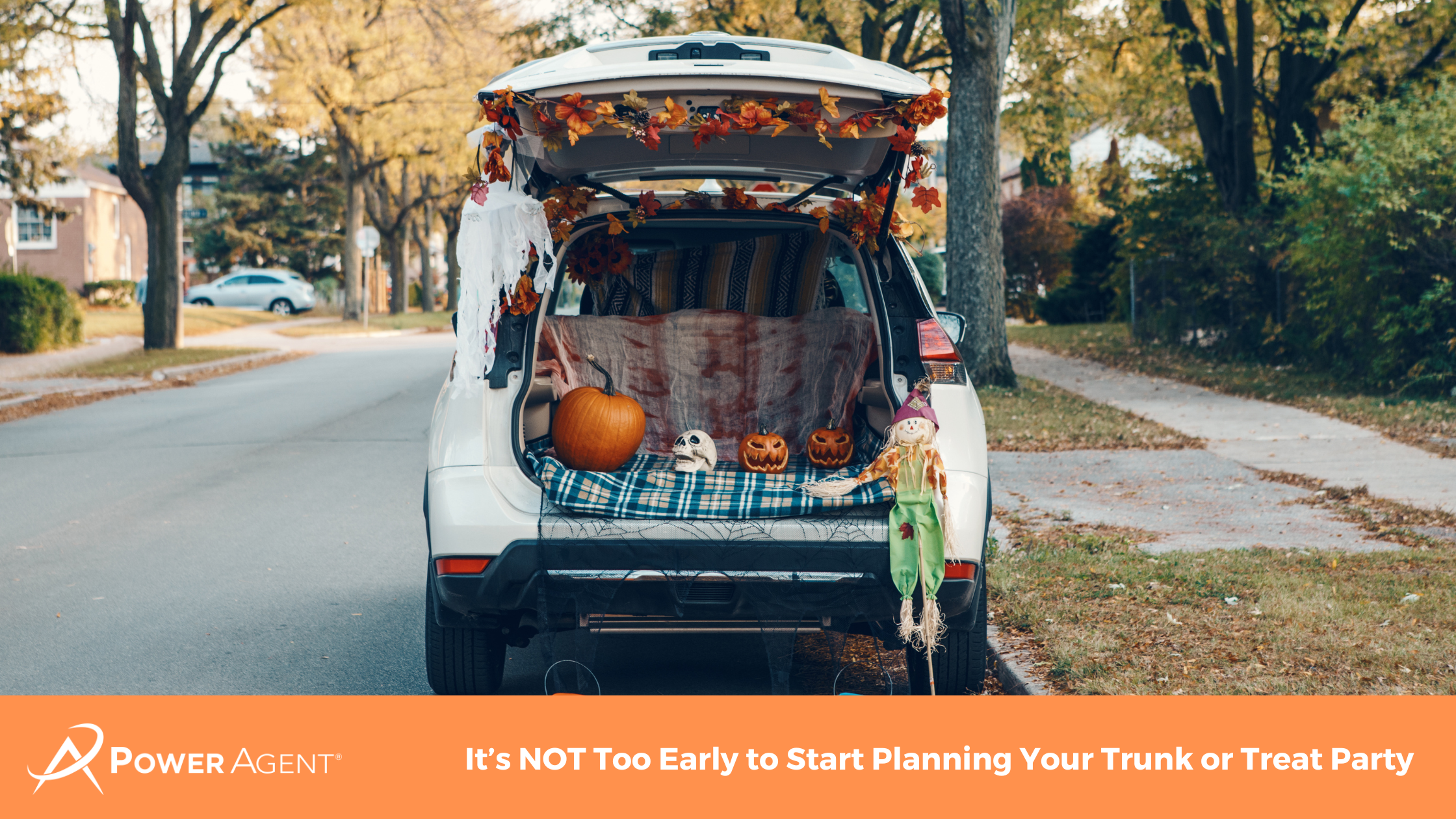 August 31, 2021
It's NOT Too Early to Start Planning Your Trunk or Treat Party 
When it comes to planning events to wow our real estate sphere and farm, there is no such thing as "too early," and Trunk or Treat is always a good idea!
"Trick or Treat!" It might seem strange to hear the popular Halloween call while it's still summer, but there's no such things as "too early" when it comes to planning the best spooktacular Trunk or Treat parking lot party for your community! 
What is a Trunk or Treat Party?
Essentially, families bring their decorated cars and costumed children to a local parking lot. Trunks are popped open and decorated, and have a candy basket (or cauldron, or bowl, or whatever fun prop goes with the theme of decorating) and kids go from car to car collecting treats!  
Some Trunk or Treat parties will include live music, carnival games, costume contests, trunk decorating contests, face-painting, and food from local businesses! 
TIP: For more information on Trunk or Treat parties, check out this article by Holidappy. 
Hosting Your Own vs Sponsoring an Existing One
Before diving into planning your own, it's always a good idea to check with the elementary schools in the neighborhood to see if they are already planning a Trunk or Treat event and are in need of a sponsor! This can be a great way to reach parents and teachers in the community, as well as share in the workload of planning.  Local PTA's are almost always excited to have sponsors for their events year round, and getting involved extends your sphere of influence into this community.  
TIP: Check out this related article about "Back-To-School Marketing Tips for Real Estate Agents." 
Scheduling
Throwing an amazing Trunk or Treat party doesn't happen overnight (as anyone who has tried to plan it overnight can attest to), which is why it's never too early to start making your plans. We've all complained about how fast the year goes, which means that October will be here before we know it! 
Most agents like to plan their event for the end of October, but not usually on October 31. Many families like to trick or treat in their neighborhood on Halloween, or attend other events on that night. Choosing the Friday or Saturday just before Halloween tends to be the most popular choice, so you can book your venue before everyone else.  
Legal Issues
Permits may be required for hosting this event, depending on what location and/or services you plan to use, and those may take some time to acquire. Getting a head start on securing these permits and getting the necessary permissions means you won't be scrambling if something falls through. Having a Plan B location in case of bad weather is also something to keep in mind.   
Volunteers
Depending on how big your event is going to be, you may require the help of several volunteers. By starting now, you can get plenty of help with the planning, as well as on the day of the event to make sure everything runs smoothly. 
Registrations 
Getting an early start on advertising means you have a better chance of getting a lot of people registering to participate! The more participants you have, the better the event is, so giving people plenty of time to register and get your event on their calendar (not to mention, sharing it with their friends) ensures the success of your party.  
TIP: Want to share some great decorating ideas with your community? Check out this list here! 
Being Prepared
Benjamin Franklin once said, "By failing to prepare, you are preparing to fail." Getting a head start on your Trunk or Treat planning ensures that nothing will be missed or forgotten, making your event a huge success. You want your event to be the talk of the neighborhood, and being prepared will show these potential clients that you are ready for anything, both in event planning and in real estate!  
Check out our Trunk or Treat Planning Guide for more planning ideas, as well as customizable flyers, registration lists, and planning sheets! 
What's Next? 
Are you ready to start taking things to the Next Level®? If you don't already know what you need to do to get to your next level, we can help!  
Power Agents®, for YOUR Trunk or Treat guide – and the complete Parking Lot Party Guide, check out the Farming and Self-Promotion tab in the Classroom.  Everything you need to throw an amazing event for your sphere and farm are inside!
---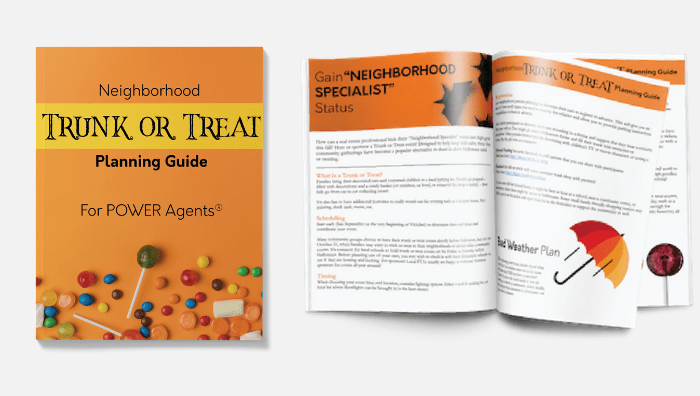 Get the latest real estate training tips delivered to your inbox!
Not yet a Power Agent®? Did you know that for LESS than the cost of a Starbucks coffee, you can have access to hundreds of marketing, prospecting, and objection handling tools – live weekly coaching, podcasts, webinars, and more? And as a bonus, get our FREE copy of our incredibly valuable: Trunk or Treat  Guide! 
Start your Power Agent®  trial and have total access to every tool we have including letters, dialogues, training tips, webinars on demand, eGuides, and marketing tools for just $5. 
Contact our team today to sign up or get the answers you need: (800) 395-3905!