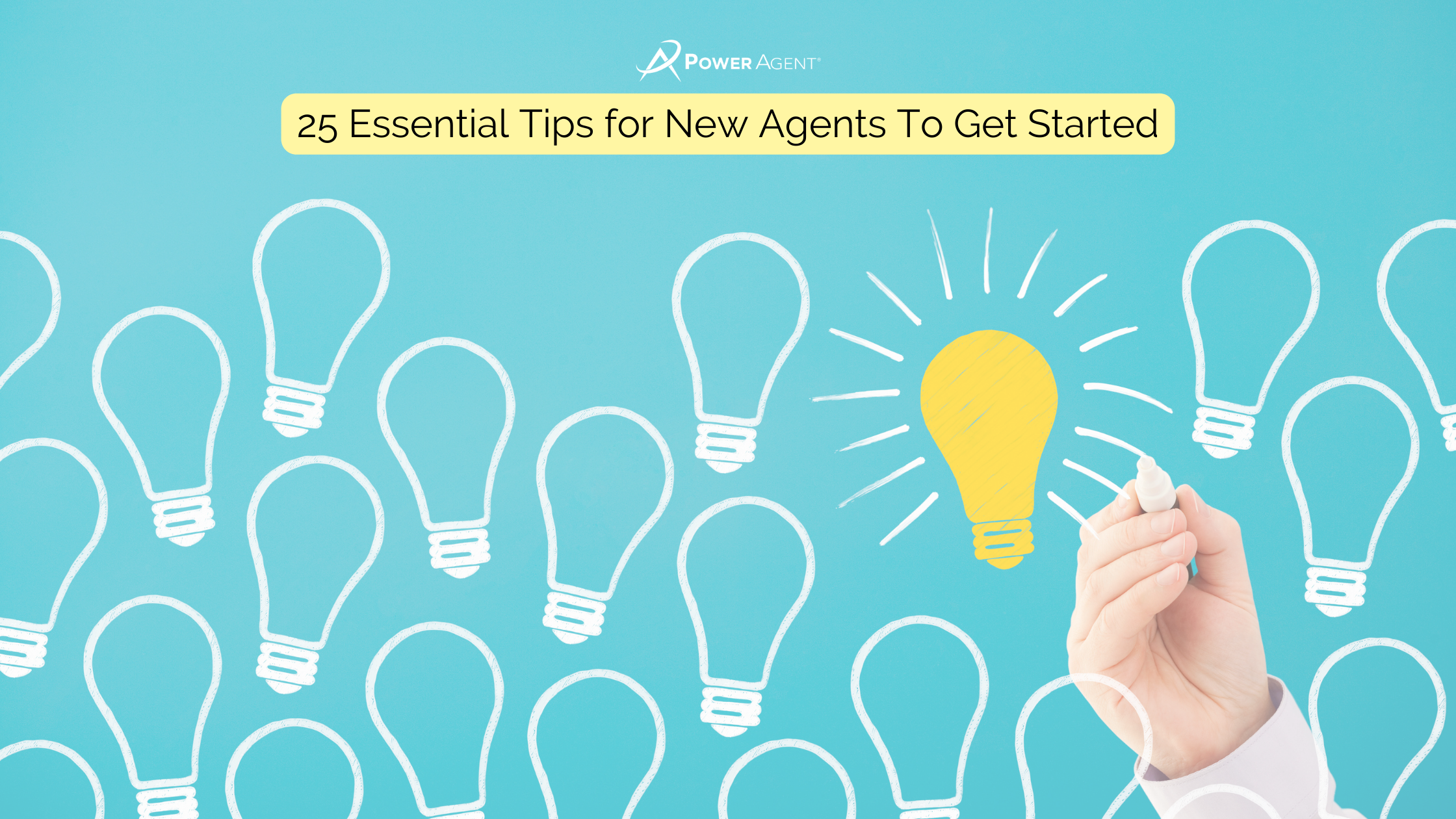 June 23, 2023
Mastering Real Estate Success: 25 Essential Tips for New Agents To Get Started
Whether you are a brand-new agent, fresh out of Real Estate School, OR an experienced agent looking to up your game…here are some top tips for building solid foundations in this business.
Real estate can be an exciting industry, though it can also be scary and intimidating. Over the last few years, this business has had its share of ups and downs, but if there is one thing that this industry and its agents excel at, it's adapting.
We want to share our top 25 invaluable tips to empower you and help establish a thriving real estate career. Get ready to dive deep into the strategies and mindset required to excel in this competitive industry, infused with inspiration and motivation.
Prepare For The Shift
It might seem like the first step to becoming a real estate agent would be getting your license, but we know that it starts before that – it starts with the decision to change your career.
#1 – Get Your Family and Support System on Board
Changing careers affects everyone, particularly when you make the move to real estate. The hours can be unpredictable, as well as the pay, and trying to find a way to balance your business and your life may take some strategic thinking! Making sure that your family and support systems are in place and on board needs to be your first step.
#2 – Research Your State's Licensing Regulations
Before deciding anything else, take the time to understand what licensing laws look like for your state. Since each state is different, taking the time to understand the rules for your state (and how they differ from other states) will be worthwhile.
#3 – Locate a Real Estate Licensing Program that Works For You
There are several ways in which you can obtain your license. Some schools offer classroom learning, though increasing numbers of schools offer online courses as well. This can be advantageous for those who need to work around scheduling conflicts.
#4 – Embrace a Winning Mindset
To triumph in real estate, adopt an unwavering belief in your abilities and an unshakeable determination to overcome challenges. Recognize that your thoughts create your reality and visualize yourself achieving great success. We know it might sound a little hokey, but we firmly believe that our "attitude determines your altitude," (Thanks, Zig Ziglar!). Mindset really does matter!
Get Your Real Estate License
Now the work really begins! You've prepared yourself and your family for this new career, and now it's time to dive in and learn!
#5 – Complete Your Licensing Courses
The completion of these courses prepares you for writing the licensing exam. They will teach you what you need to know about best real estate practices, laws and regulations surrounding the purchase and sale of a property, and state-specific rules that you need to follow, etc.
#6 – Pass Your Real Estate License Exam
This can feel like a monumental feat, and some agents go into this exam with dread, but thanks to the plethora of practice tests out there and the quality of your education, you will be able to go into your exam with confidence!
Establishing Yourself as a Real Estate Agent
Phew! You passed your exam, and you have your freshly minted real estate license in hand. It's time to get to work, so where do you start?
#7 – Consider Joining a Brokerage or Team
Some states require you to be a part of a brokerage before you can activate your real estate license, though we would recommend it anyways. It gives brand-new agents the best chance to learn the ropes of the real estate industry, as well as provide the opportunity to ask questions and improve their skills.
Related reading: Choosing the Right Real Estate Brokerage
#8 – Build a Robust Network
Success in real estate is built on relationships. It might be tougher when you are a brand-new agent, but start cultivating a diverse network of contacts, including fellow agents, lenders, contractors, and influencers. Leverage these connections to gain referrals, expand your client base, and open new doors. If you haven't already, hop over to our POWER AGENT® Directory and fill out your profile!
#9 – Specialize in a Niche
Become an expert in a specific real estate niche that resonates with you. Whether it's luxury properties, commercial real estate, members of the military, or first-time homebuyers, specializing allows you to stand out in the sea of agents, become an authority on the needs of your niche, and attract clients seeking your expertise.
Related reading: 8 Types of Real Estate Niches And Why You Should Have One
#10 – Prioritize Time Management
Real estate agents wear many hats, juggling numerous tasks simultaneously. Develop excellent time management skills to maximize productivity. Prioritize activities that generate the most significant impact and delegate tasks whenever possible.
#11 – Attend Networking Events
Participate actively in industry events, conferences, and local community gatherings. Networking is an opportunity to expand your sphere of influence, connect with potential clients, and establish meaningful relationships with industry professionals. These connections become referrals in the future!
#12 – Provide Exceptional Customer Service
Go above and beyond to exceed client expectations. Deliver exceptional customer service, promptly respond to inquiries, and keep clients informed throughout the process. Your reputation will flourish as satisfied clients become your best brand ambassadors. Encouraging these happy clients to leave reviews will further grow your reputation when buyers and sellers start looking for an agent.
#13 – Stay Persistent
Rejection is an inevitable part of the real estate journey. Embrace it as a stepping stone to growth and remain persistent in the face of adversity. Success often comes to those who persevere and maintain a positive mindset. "A river cuts through rock, not because of its power, but because of its persistence." (Jim Watkins)
#14 – Stay Up-to-Date with Market Trends
Stay informed about market trends, economic indicators, and local developments that impact the real estate landscape. This knowledge will enhance your credibility and allow you to provide valuable insights to clients, so take some time each day to read the latest news in real estate so you are aware of what's happening.
#15 – Never Stop Prospecting
Consistent prospecting is the lifeblood of your real estate business. Even though some agents find it daunting, when you dedicate time each day to identify potential leads, nurture relationships, and follow up on promising opportunities, prospecting consistently will ensure a steady flow of clients.
Growing Your Business with Self-Promotion
We know how hard it can be to promote yourself without feeling "salesy", but learning to do this well will make a huge difference in your business.
#16 – Embrace Technology
Stay current with technological advancements shaping the real estate industry. Utilize customer relationship management (CRM) software (a MUST in today's market), virtual tours, and digital marketing tools to streamline your operations, stay top of your clients' minds, and provide a superior client experience.
#17 – Develop a Strong Online Presence
Create an engaging website that showcases your expertise, listings, and testimonials. Make sure you implement search engine optimization (SEO) strategies to increase your online visibility so that when buyers and sellers start looking for an agent, you are the one they see. You can also publish informative blog posts and leverage social media to connect with potential clients.
#18 – Craft a Compelling Personal Brand
Set yourself apart from the crowd by developing a unique personal brand. Identify your strengths, values, and what makes you special, and then communicate this effectively to potential clients, inspiring trust and establishing yourself as an authority. Visual things matter too: choose colors, fonts, and filters to use as a standard to create consistency.
#19 – Leverage Social Media
Embrace the power of social media platforms to enhance your reach and build your brand. Create compelling content, record short, informative videos, engage with your audience, and utilize targeted advertising to attract potential clients. Creating a Facebook group in your farm area is a great example of how to reach your potential buyers and sellers. In short, consistency is key to maintaining an active online presence.
Skill Building and Development
As real estate agents in an industry that is constantly shifting and changing, continuous education and training is a necessity. From updating your real estate license every few years to account for changes in laws and regulations to growing your skill sets, real estate is in a constant state of evolution.
#20 – Continuously Educate Yourself
Stay ahead of the curve by committing to lifelong learning. Dedicate time each day to expand your knowledge, attend industry seminars, read books, and engage in relevant online courses, and, most importantly, join us every Wednesday for our free webinar training sessions. Knowledge really is power in this ever-evolving field, and in an industry that is always ebbing and flowing, our skills need to grow with it.
#21 – Hone Your Communication Skills
Effective communication is the backbone of your real estate career, but talking to potential clients doesn't have to feel intimidating. After all, it's just a conversation between 2 human beings! Develop exceptional listening skills, learn to ask the right questions, and practice clear and concise communication to establish trust, provide value, and deliver outstanding service to your clients. When you know what your client is committed to, you are best able to help them achieve that.
#22 – Learn from Experienced Mentors
Seek guidance from experienced agents who have achieved the success you aspire to. Learn from their experiences, listen to their advice, and model their strategies. A mentor can provide invaluable insights and help you navigate potential pitfalls. Participating in a real estate coaching program such as the POWER PROGRAM® is a great way to get help with problems and develop your skills.
#23 – Master the Art of Negotiation
Effective negotiation skills are essential for success in real estate. It isn't your job to convince your client to take a particular action, or tell them what terms to negotiate, but to advocate for your client's interests while understanding their needs in order to find win-win solutions. This is something that takes practice to get skilled at, but always keep your client's commitments as your focal point.
Stay Positive
#24 – Cultivate a Positive Mindset
Maintain a positive outlook even in challenging times. Easier said than done, sometimes, but surround yourself with uplifting individuals, read motivational literature, and practice self-care. Remind yourself of your "Why" and be focused on helping others. A positive mindset will enable you to overcome obstacles and inspire confidence in your clients.
#25 – Embrace Continuous Adaptation
The real estate industry is constantly evolving, driven by changing market conditions, technology advancements, and consumer preferences. To thrive in this dynamic environment, embrace a mindset of continuous adaptation. Stay open to new ideas, be willing to learn, and adapt your strategies accordingly. Embracing change makes you an innovative agent capable of meeting the evolving needs of your clients.
Congratulations on embarking on this exciting real estate journey! By embracing these 25 essential tips, you are laying the foundation for an exceptional career in real estate. With determination, passion, and the right mindset, you have the power to achieve extraordinary success in the real estate industry. Now, go forth and prospect!
Learn more about the POWER AGENT® PROGRAM. 
Join Darryl's Inner Circle Facebook Group. We are always posting fresh ideas, training tools, strategies, and templates, and hosting important, timely discussions with real estate professionals across the globe who are committed to their Next Level of success and life.  
Subscribe to our newsletter. Click the button below to fill out a simple form and tap into new resources, free downloads, premium content, and exciting promotions. 
Reach out and talk to us. Not sure if this coaching program and community is right for you? Click that blue chat button on the bottom right of the screen, or call us at the number in the header. We are here to help!

Not a POWER AGENT® yet? Give us a go! This comprehensive program provides affordable coaching, training, and customizable marketing tools for real estate agents. It's proven to help thousands of agents significantly boost their listing inventory, solidify their business, cultivate lifelong customers, enhance authenticity and confidence, reduce stress, and craft fulfilling careers and lives. 

 
Contact our team today to sign up or get the answers you need: (631)929-5555