February 19, 2018
8 Top Tips for a Great First Quarter
POWERFACT: Agents who adopt smart, efficient, CONSISTENT strategies and business practices will always out-produce those who are just "winging it".
Setting the right pace and track for a successful year starts early and stay focused. In this video — EIGHT Power Agent® Tips, I really wanted to give you some clear, easy-to-implement strategies to kick your business into high gear this quarter and set yourself up for a BREAKTHROUGH year. Watch the video and see which ones you can put into place starting this week!
1. Clean your desk. Sound simple? Maybe. But there's a lot of psychology behind this. There's a lot of chaos that comes with being a real estate pro these days. By clearing the clutter and having a workspace that is free from distractions and mess — you give yourself a better landscape to practice your business.
2. Square up your listing conversation. My uncle was a Navy man, and he was known for telling us to make sure everything was "squared up" — meaning it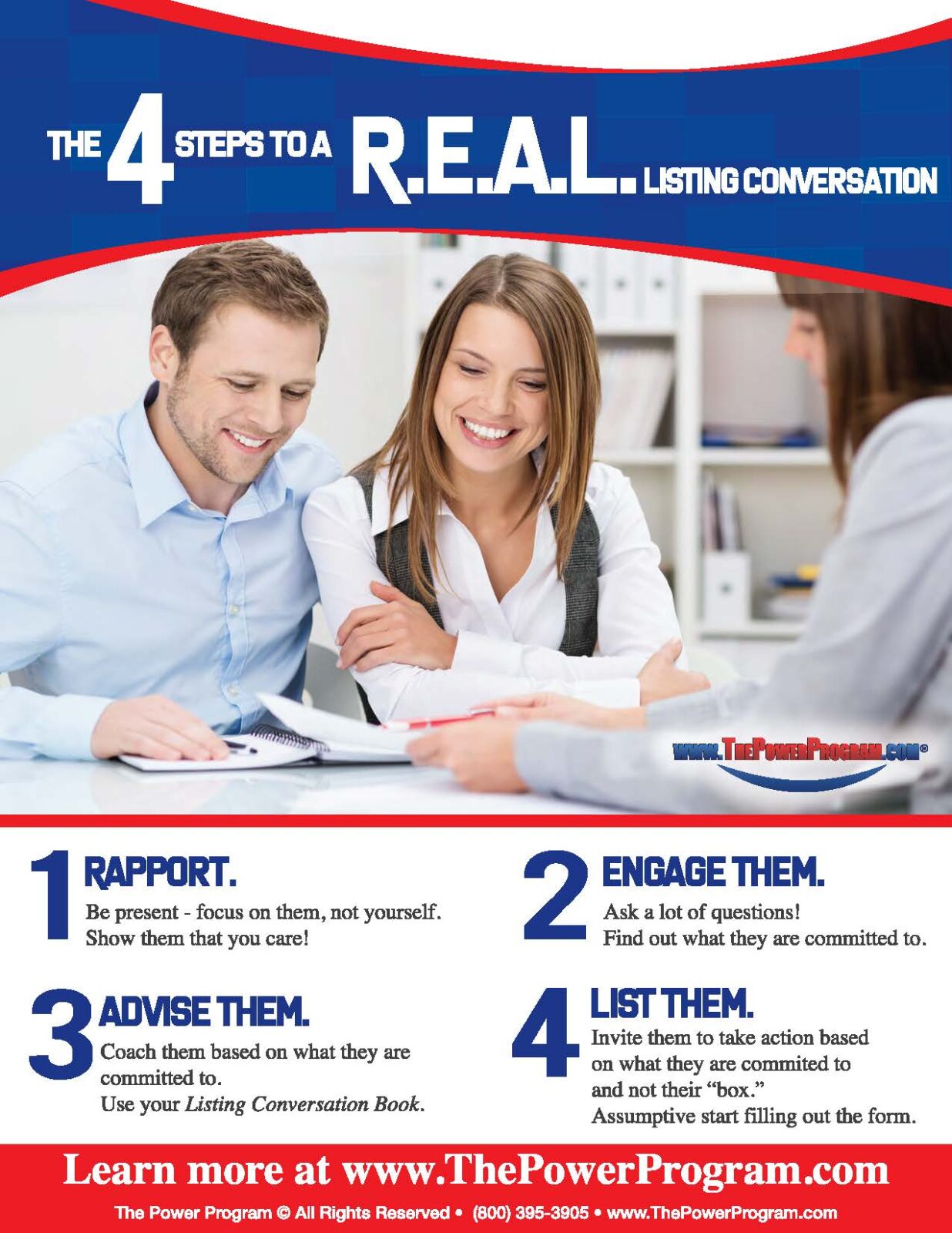 was as crisp and solid as it could be. Whatever the "it" was that he was talking about at the time. Your listing conversation — or presentation as some of you might call it — is one of the most powerful and important components of a real estate professional's business. Make sure it's perfect. Your i's are dotted and your t's are crossed. You know it backward and forward and inside out. When you do – you'll have more confidence to deliver it — and more confidence to prospect to land the appointments to deliver even more! Download your copy of The 4 Steps to a R.E.A.L. Listing Conversation here. While you're at it – read this post for links that walk you through all four steps in detail!
3. Determine five things you're comfortable talking about with sellers that make you feel empowered. For some people – it's about getting over the discomfort of what to say and when to say it. When you have some backup material it makes you feel more empowered. Find five things that you can always converse about to have as your backup.
4. Use the Listing Inventory chart to stay on track.  Remember, it's not just LISTINGS that are the name of the game – it's listing INVENTORY. This powerful little tool helps you visually keep track of your inventory so you know when you are on track or off track for building your inventory by at least one per month. If you're a Power Agent, head over to our Member Group on Facebook or go to the Prospecting tab in the Classroom to get your copy. If you're not a Power Agent yet — join! You've got a 30-day free trial to check out all the tools and training!
5. Use RedX to have expired and FSBO leads that work. Power Agent members tell me this is hands-down one of the best lead tools in their business toolkit. This service does so much of the legwork for you — and delivers to your inbox FSBOs, EXPIREDS, and rentals every day. And – as you've often heard me say, those are some of the fastest prospects in the industry for building your inventory quickly. Check them out here and use promo code SMILE to get a 31-day free trial, and waive the set-up fee!
6. Schedule specific days and times to prospect and don't waiver. Your prospecting time should be a non-negotiable appointment with yourself each week. I know it's easy to get distracted in our business — and our world. If we wait until we FEEL like prospecting — we'll never do it, right? So my suggestion is to calendar at LEAST three times per week, for at least one hour per session. It is a habit that will help you build your business and grow your wealth.
7. Have a solid business plan. Don't overcomplicate it! If you don't currently have a business plan – check out this post — I share my one-page business plan that you can download and a quick training video on how to use it! 
8. Set monthly goals for more momentum and urgency. As I always say, the problem with annual goals is that you don't start paying attention to them until month eleven! Head over to this post to learn how to set goals that keep you FOCUSED!
Ready to take your business to the NEXT LEVEL™? Sign up for a 30-day free trial of The Power Program®, and make sure you join us for our next Power Agent® call.  I promise you, you'll not only get better RESULTS with both buyers AND sellers — you will also definitely have more fun while you're at it. I'm all about designing a life worth smiling about. The Power Program and I can help you do just that!