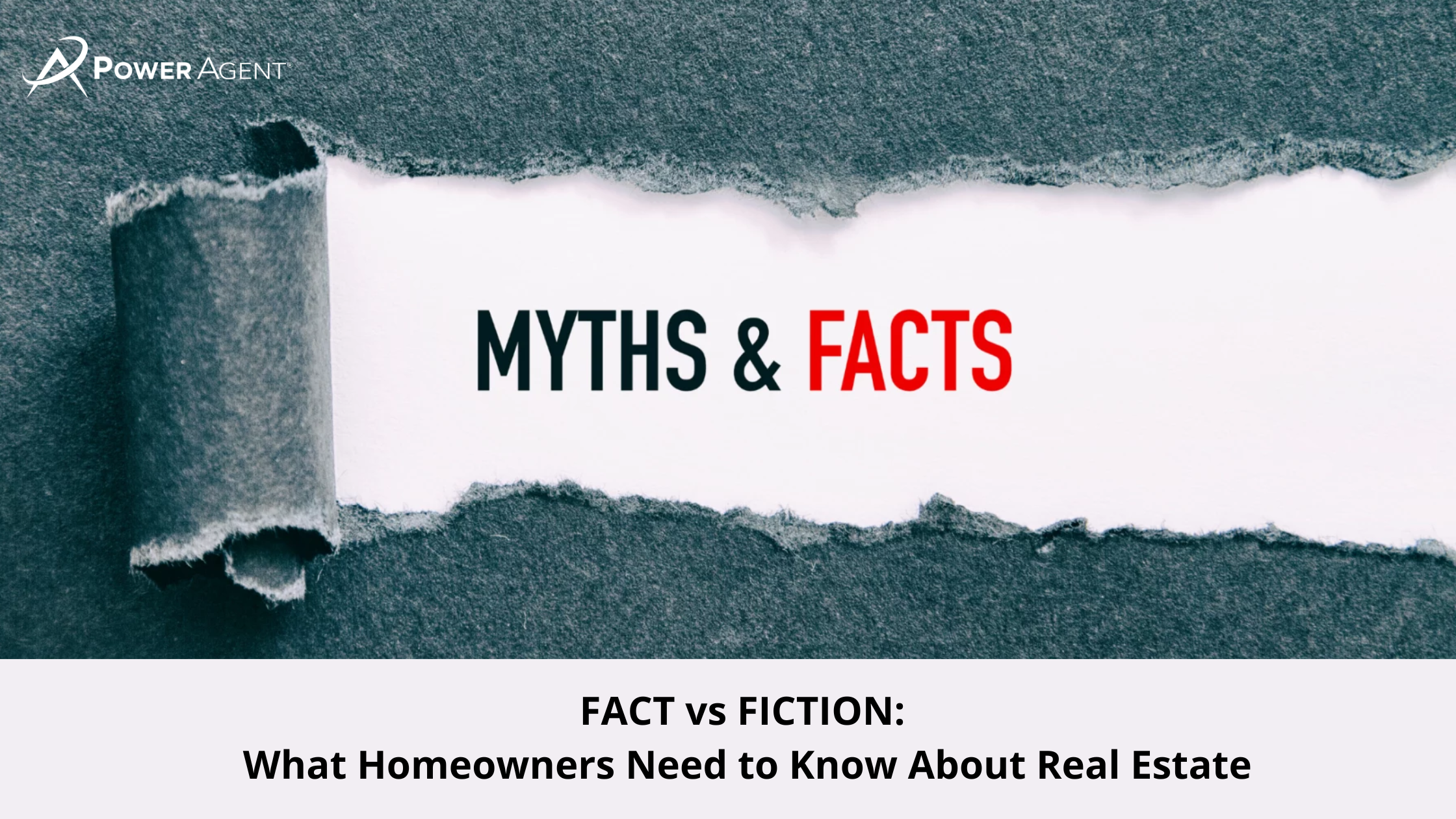 May 22, 2022
FACT vs FICTION: What Homeowners Need to Know About Real Estate
Separating real estate facts from fiction can get confusing. Let's dive into the most common things that real estate agents want homeowners to understand.
With the real estate markets seeming to change faster than a chameleon can change its color, the notion of buying or selling your home can feel quite daunting. There is so much (almost TOO much) information out there, but how do you know what's fact from fiction?
You're in luck! We have compiled a list of the most common confusions in the real estate industry to help provide some clarity for you.
FICTION: Zestimates are as accurate as what an Agent predicts
.
FACT: Many homeowners looking to sell will start the process by trying to find out what their home is worth, many choosing to use Zillow's Zestimate feature. However, this is their first mistake! Zestimates are woefully inaccurate, using only a computer algorithm to pump out a number based on only a small criterion. Contrary to what you might think, no human being looks at the number to see how accurate it is! This is precisely why you should always talk to a real estate professional and have them work up a Comparative Market Analysis…essentially, a report on what's going on in your neighborhood and how much your home is worth. They have a conversation with you to ask questions like: Have you done renovations recently? How many bedrooms? They can calculate the approximate value of your home better than any computer because they know what's important, unique, and valued in your home.   
Related Reading: "Why iBuyer is the Worst Thing for Homeowners" 
FICTION: Sellers should always be responsible for all repairs.
FACT: While this point is often understood to be "set in stone", who takes care of the necessary repairs can be a negotiating point, and we would argue against having the seller do the repairs. Let's be honest; sellers are leaving. How many horror stories have we heard where sellers took care of the repairs as part of the agreement, but the work was less-than-ideal, or would even leave Red Green cringing? The truth is, sellers aren't going to have to live in the house with their repairs, so it's better for the buyers to arrange the repairs, so they know the repairs will be done to their satisfaction. After all, this house is about to become their home, so negotiating the price lower to accommodate the cost of these repairs is the best option when coming to a deal. The buyers deserve to trust that the repairs are done to their standards.   
Related Reading: "Why Real Estate Sellers Shouldn't Be In Charge Of Making Repairs" 
Related Reading: "4 Mistakes First Time Homeowners Make and How To Avoid Them" 
FICTION: iBuyers are an easier way to sell my home instead of an agent.
FACT: At first glance, iBuyer companies like Zillow, Opendoor, and Redfin might seem like a homeowner's dream. The process is easy. No waiting, hoping, praying, or begging that your home sells, and everything is taken care of for you….or is it? The truth is, iBuyers should be called iInvestors, as their purpose is to flip your home for profit. Sure, the process is streamlined for you, but they don't want you to realize that they are a business committed to paying a homeowner the least amount possible for their home to maximize their profits when they turn around to sell it. Nobody is looking out for your best interests, which is why selling your home with a real estate agent puts a highly skilled professional negotiator in your court to help you get the most for your home and avoid the legal problems that might arise going it alone.   
Related Reading: "iBuyer Beware: How iBuyers Dupe Unsuspecting Homeowners" 
FICTION: An agent with a big social media following means they are the best skilled. 
FACT: We are bombarded with social media everywhere we turn, and for most users, it's ALL about getting followers and gaining popularity. If we're being honest, we scrutinize how popular someone is on Instagram or TikTok to see if they are someone worth following. 1 million followers? Sign me up! Trending hashtags? They MUST be great! However, equating popularity with skill is a mistake that many buyers and sellers make when searching for a real estate agent, assuming that the more popular an agent is, the better skilled they must be at marketing, negotiating, and creating attractive offers. They are certainly skilled at marketing themselves, but can they negotiate? Do they know real estate law forward and backward? It's important to interview agents to find one that is highly skilled AND that you can connect with. After all, your home is your most valuable asset, so do you want to entrust it to someone who might not know how to do the job?  
Related Reading: "Skills vs Popularity: Why Skills are More Important Than Social Media Followers" 
FICTION: This market is so hot I don't need an agent to sell my home.
FACT: The real estate industry is complicated and only growing more so as time goes on. Many people want to sell their homes on their own and believe that it's a simple process, but they are making a terrible mistake. The legal ins and outs, not to mention painful commission truths (hint: you owe commission as soon as an agent brings a buyer ready, willing, and able), can catch even the most knowledgeable homeowner by surprise. Even making sure that the person making an offer can even afford your home and the complex multiple offer issue (where you might be on the hook for more than one commission) can have homeowners reeling! Several things could go wrong, and you are the one held responsible. By hiring a real estate agent, you have someone dedicated to looking out for your best interests. You have someone to negotiate the best deal, schedule and handle all your showings, coach you through multiple offers (Hint: The most money isn't necessarily the best offer), and maneuver through all that legal jargon you might not understand. They are on your side, working to sell your home so you can have a stress-free experience and get the most money for your home.   
Related Reading: "9 Reasons Why Real Estate Agents are Essential for a Trouble-Free Real Estate Transaction" 
FICTION: I can get back all the money I put into renovating my home before I sell.
FACT: As much as we wish you could get back the $5000 you paid for that 24-carat gold toilet seat, the sad fact is that only certain renovations and upgrades will actually add value to your home. Recouping the full costs of those renovations is also unlikely, and you may be wondering why you should bother renovating or upgrading at all? Updating and renovating can help your home sell faster because it's fresh and new, and newly renovated homes appeal to many buyers. After all, that is one less thing they will have to worry about. Giving your home a fresh new look doesn't have to cost a lot either, as a fresh coat of paint and new fixtures can go a long way without emptying your bank account. Bigger reno's? Focus on the kitchen and bathroom if you want to get the most back out of the money spent. 
Related Reading: House Improvements: "Top 10 Renovations to Improve Your Home's Value" 
Related Reading: Home Light: "Which Renovations Increase Your Home's Value." 
FICTION: Discount brokerages are the same as normal brokerages, but I save money.
FACT: The old adage is true where discount brokers are concerned: "You get what you pay for." Yes, agents with a discount broker are real estate agents, but the level of service will not be the same level of service you would get with a full-fledged real estate professional. After all, it's a business, and if you aren't paying as much, they will not offer as much. Personal visits to your home? Nope. Marketing your home to buyers? Ehh…maybe. Know your area? Sorry, they are probably in another town altogether. So, what DO these discount brokerages do? They assist you in selling your home, but the level of service and support will never come close to matching what a professional will do. A professional real estate agent is INVESTED in your success.   
Related Reading: "What Discount Brokers Won't Do For Sellers" 
FICTION: Real Estate Agents Make a Ton of Money on Every Sale.
FACT: It doesn't take much to do the math when figuring out how much money a real estate agent walks away with. A home worth $300,000? At a standard 6% commission, that's $18,000 off the sale of one home! While you may just have started considering switching careers, cue record screech. That whole $18,000 does not actually go into the agent's pocket. Not only does that get split between the buyer's agent and seller's agent, but part of that goes to the brokerage. It also goes into Real Estate Association costs, all the marketing they already paid out of pocket for to sell your home, not to mention insurance, gas, educational fees, and so on. According to the National Association of REALTORS®, the average real estate agent makes $43,330 a year by the time everything is paid off. 
Related Reading: "The Commission Breakdown: How Much Real Estate Agents Really Make" 
FICTION: It's Too Hard for Buyers to get their offer accepted right now and they're backing out of deals.
FACT: While it's true that some buyers are hesitant to try getting into the market right now because of the current home prices, that doesn't mean there aren't still buyers aplenty who are badly in need of homes. Whether they need to move for a new job, their children are switching schools, or they want to retire someplace warm, the real estate industry is still going strong. So, what's the biggest problem for most buyers in many markets? Getting their offer accepted when competing with so many other offers. The competition is fierce, and the listing price has become the starting price for the inevitable bidding war. Not only are they offering their biggest and best price, but creative buyers are trying to offer unique incentives to win the contract. 
Related Reading: "How To Get Your Offer Accepted In a Sellers' Market." 
Related Reading: "How To Keep Your Frustrated Buyers Committed to the Hunt" 
FICTION: I don't need to hire an agent when I buy. The listing agent can handle all the details.
FACT: The above statement is true because yes, they CAN handle the details, but should they? For buyers, we strongly recommend that you hire your own Buyer's Agent to know that you have someone dedicated to looking out for your best interests. The listing agent's fiduciary duty is to the seller, so everything they do regarding the offer, the negotiation, and the terms will be in the seller's best interests. Legally, they CAN NOT look out for yours. By hiring your own agent and signing a Buyer Agency Agreement with them, you have someone doing the work for you, coaching you through the offer and negotiation.   
Related Reading: Five Walls – "Buyers Representation Agreement Guide" 
FICTION: If I sell my home on my own, I can save by not paying a commission and put more money in my pocket.
FACT: According to the National Association of Realtors® (NAR), For-Sale-By-Owners sell their homes for an average of 26% less than what they would have gotten if they sold their home using a real estate professional. For a $400,000, they stand to lose over $100,000! When you calculate the average 6% commission on that, it's only $24,000, which would put an additional $76,000 in the hands of the seller. What could you do with an extra $76,000? 
Related Reading: "No FSBO Should be a FSBO" (With video) 
FICTION: Everyone walking into my home is qualified and I'm perfectly safe when I sell my home on my own.
FACT: The painful and unfortunate truth is that you have no idea who is coming to view your home. You don't know if they are qualified, you don't know if they are serious, you don't know if they are casing the joint to rob you later, and you don't know how you are making yourself vulnerable to legal trouble. It's easy to assume that everyone that calls to see your house has gotten prequalified or that they seem like "nice people". You are just selling your home, so why on earth would anyone want to take advantage of you or even hurt you? We want to believe that we are safe, but a quick Google search of crimes against real estate agents should be enough to instill a healthy sense of caution. By listing with a real estate agent licensed by the state, you will know exactly who is coming to see your home. 
Related Reading: "5 Ways to Keep Yourself Safe When Selling Your Home" 
—————
About Your Author Darryl Davis, CSP, Speaker, Coach, Author 
Darryl has spoken to, trained, and coached more than 100,000 real estate professionals around the globe. He is a bestselling author for McGraw-Hill Publishing, and his book, How to Become a Power Agent in Real Estate, tops Amazon's charts for most sold books to real estate agents. His real estate training system The Power Program® is proven to help agents double their production over their previous year. Darryl is currently hosting weekly free webinars to help agents navigate the new real estate reality. Learn more at www.DarrylSpeaks.com/Online-Training.