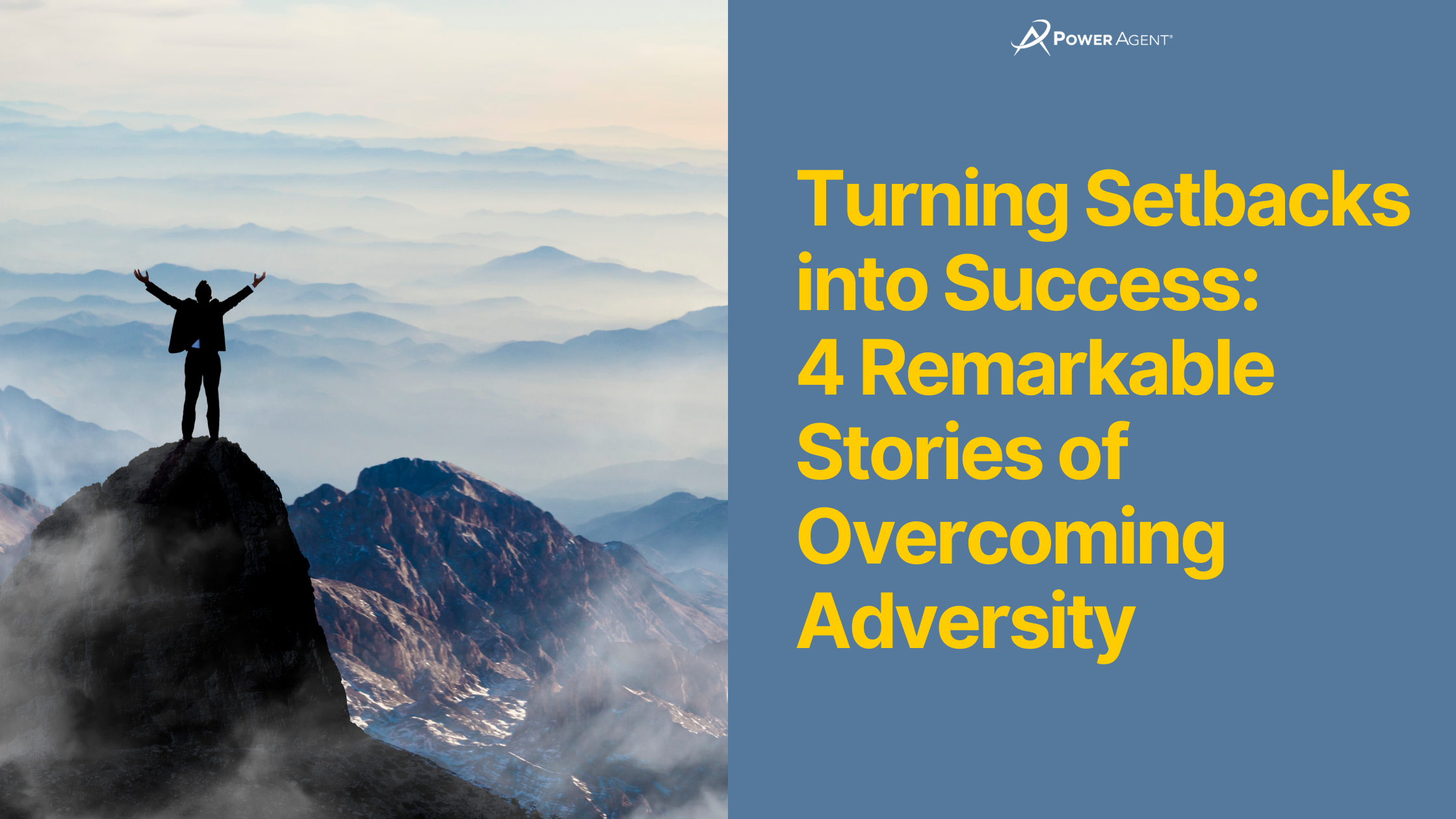 July 7, 2023
Turning Setbacks into Success: 4 Remarkable Stories of Overcoming Adversity
In times of immense distraction and stress, cultivating a laser-like focus on what is

possible

becomes an invaluable ally.

 
We've been at this real estate thing a long time, as we are sure many of you have too. In that time, we've witnessed countless agents facing obstacles in their careers. Here's what we know: what separates exceptional agents from the rest is their ability to identify opportunities within these challenges. That's a REALLY important message to let sink in right now as we are inundated in today's world with negative influences, glaring headlines, and a tight market.  
Related reading: Win the Day: How Small Steps Pave the Way to Big Real Estate Success  
Since we are big fans of highlighting successes and wins – we wanted to use some success stories that were "born" during difficulty and rose to the top. We hope they'll inspire you to continue to focus on finding possibilities and opportunities in a world filled with obstacles.   
Let's look at four remarkable stories of struggling companies that pivoted into success: 
POWER AGENT® Success Stories
We love celebrating wins in the POWER PROGRAM®, so we wanted to share a few examples from among our group: 
Obstacles and adversities are always going to fall in our paths – that's just the way of the world. How we HANDLE them, navigate them, and even leverage them to create success makes all the difference in life and in business. This week, take the time to re-imagine what you are focusing on so that you, too, can turn adversities into success stories. It's never too late! 
Related reading: Transform Your Organization into an Innovative Learning Machine 
We're here to help every step of the way!  
Learn more about the POWER AGENT® PROGRAM
Join Darryl's Inner Circle Facebook Group. We are always posting fresh ideas, training tools, strategies, and templates, and hosting important, timely discussions with real estate professionals across the globe who are committed to their Next Level of success and life.  
Subscribe to our newsletter. Click the button below to fill out a simple form and tap into new resources, free downloads, premium content, and exciting promotions. 
Reach out and talk to us. Not sure if this coaching program and community is right for you? Click that blue chat button on the bottom right of the screen, or call us at 631-929-5555. We are here to help!
---

Get the latest real estate training tips delivered to your inbox!
Not a POWER AGENT®? Give our program a go! Our program offers practical and affordable coaching, training, and customizable marketing tools designed just for real estate agents. With a track record that speaks for itself, our program has propelled thousands of agents in expanding their listing portfolios, solidifying their business operations, building lifelong clients, and increasing their authenticity and confidence. It's not just about reducing stress; it's about crafting a career and lifestyle that sparks joy and fulfillment.  
Check our the POWER AGENT® PROGRAM here!