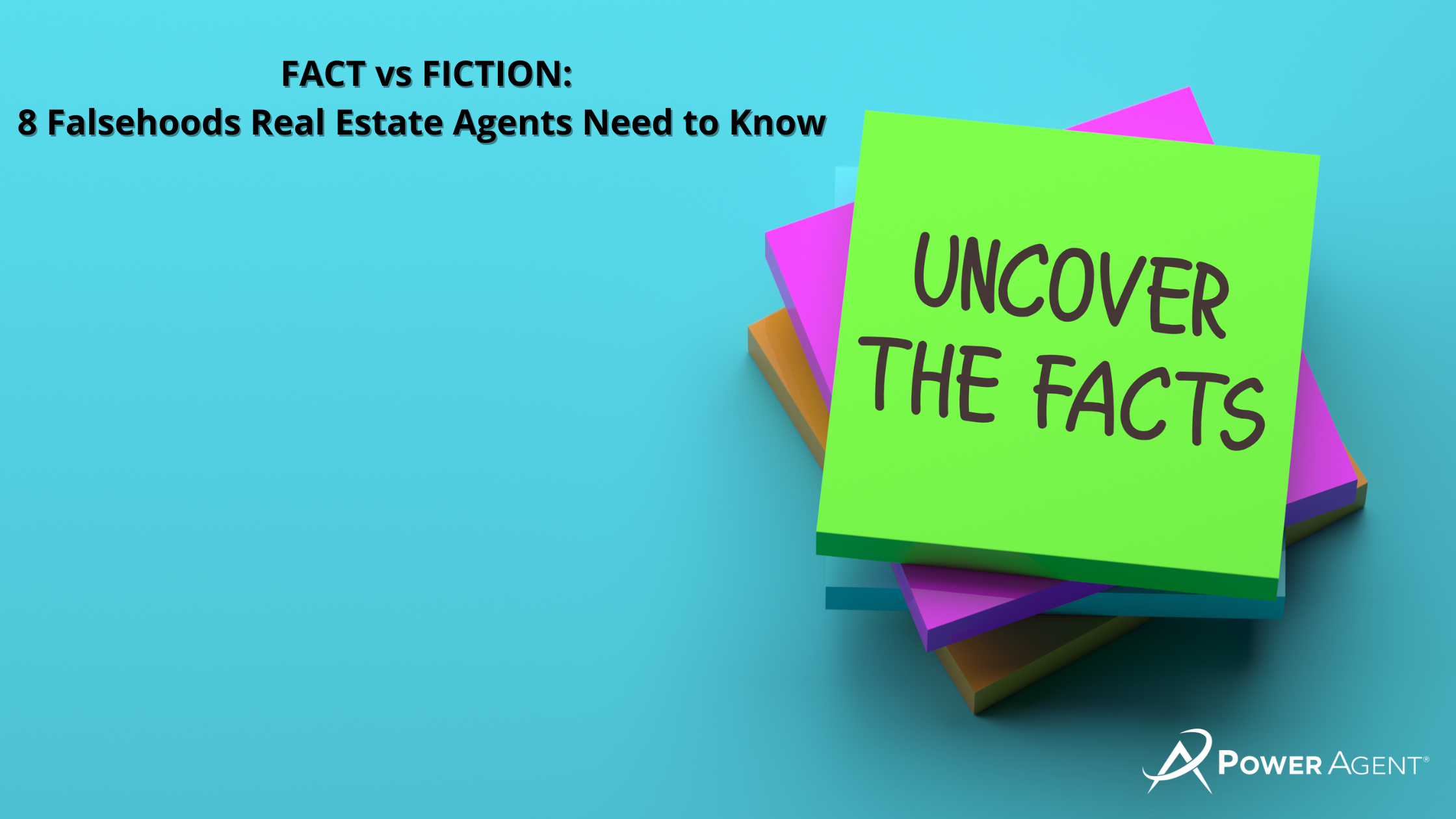 January 23, 2023
FACT vs FICTION: 8 Falsehoods Real Estate Agents Need to Know  
From misunderstandings to misconceptions, many opinions are often treated as fact, and many concepts are treated more like expectations or assumptions. Let's set the record straight!
Former U.S. Senator Johnny Isakson said, "In the real estate business you learn more about people, and you learn more about community issues, you learn more about life, you learn more about the impact of government, probably than any other profession that I know of." Real estate agents have a BIG job and need to know a lot about a lot!  
Unfortunately, sometimes opinions or misunderstandings evolve over time and somehow become what many believe is a fact, so we're here to clear up some of the common misconceptions in real estate so that you can move forward with accurate information. 
FICTION ONE: It's illegal to pay a referral fee to a non-agent
FACT: The various associations in the real estate industry that manage licenses have a lot of rules and regulations about how licensed professionals can do business together, which means you need full disclosure on who was paid what and how. The purpose is to avoid a conflict of interest. Yes, it's against the law for a mortgage loan officer or title companies (as examples) to get kickbacks (cue: "Tit-for-tat") on a deal when they refer someone to you, and you do not disclose where you received the referral from or that you paid for this referral. Now, this is where things got confusing over the years, and this rule has been misinterpreted as "Only licensed professionals can be given a referral fee." We need to note that "civilians" and any other unlicensed people can legally receive an incentive because they have nothing to do with the transaction, which means there is no conflict of interest. Yes, there are strict agent-to-agent referral laws, but saying ONLY licensed pros can get a referral is simply not true. It is a thank you gift, which means you are free to reward your clients with anything from gift cards to fancy cheese platters to cash. 
Related reading: The Truth about the Legality of the Real Estate Referral Fee 
FICTION TWO: You cannot call FSBOs on the Do Not Call List (Especially in a State of Emergency in New York)
FACT: I believe you 100% can legally call FSBOs and Expireds even when they are on the Do Not Call list and even if you're in New York during a state of emergency. I am coming from experience and knowledge here – PLUS — I ran it through with my attorney. This is what the "Do Not Call" Law says: "No telemarketer or seller shall make or cause to be made any unsolicited telephone sales calls to any customer when that customer's telephone number is on the National Do Not Call Registry." Do you see what it says? You cannot make unsolicited telemarketing calls when somebody is on a do not call list. But watch this — it defines what an unsolicited call is. "Any telemarketing sales call, other than calls made or in response to an express written or verbal request." FSBOs do not fall into this category. Why? Because a FSBO is not an unsolicited call. A FSBO is actually the opposite. FSBOs are actually publishing their phone number saying…"I'm selling my house. Call me!" THEY are soliciting telephone calls. FSBOs initiate the call by advertising their home. We are not soliciting. There is no sale taking place over the phone, and no credit card is taken. We are simply asking if they would be offended if we came by to look at their house. And we're asking that based on their ad and only after we've built some rapport. 
Related Reading: Calling FSBOs and Expireds on the Do Not Call List 
FICTION THREE: Prospecting is scary and hard, and it's difficult to get business
FACT: Prospecting isn't hard, but it does take time to build relationships. The first rule of prospecting is super simple! Ready? Talk to people about real estate! It seems obvious, but this is the number one thing I want you to wrap your mind around, especially for new agents. Everybody you meet is a potential client. Every single day you'd be allowing yourself not only to serve people in your market, but you'd get better and better at communicating because you're practicing! Use your prospecting time to ask questions, build rapport, develop relationships, and serve people. People need your services. They need an advocate who will help them find the home of their dreams or get the best possible return on investment from their property. ONE hour a day! That's it, and you propel your potential to earn a solid six figures.   
Related Reading: The Simple Daily Activity That Will Drive Your Business Forward. 
Related Reading: The 3-Touch Point Marketing Plan to Connect With Your Sphere and Farm 
FICTION FOUR: Buyer won't want to work with you if you make them sign a Buyer Agency Agreement
FACT: You've all heard me mention (often!) the importance of having a Buyer Agency Agreement. It's my strong recommendation that all agents have one with every buyer! In fact, I do more than just recommend it; I insist on it! It's every real estate agent's safety net. This legal document outlines the expectations of both the buyer and the real estate professional. By signing, the buyer agrees to work with that agent exclusively. It holds the buyer accountable, so if you are going to do all the work of finding them a home, you ensure that you will get paid for it. Some buyers refuse to sign one because they don't understand how this document protects them as well. If they choose not to have you as their representative, you will be representing the seller. Your commitment will NOT be getting them their home at the best possible price, but your duty will be to the seller and getting THEM the best possible price for their home. Your fiduciary duty means you will be working AGAINST the buyer. Most buyers don't know this because nobody is telling them! When they understand the legal implications and potential liabilities, they will be begging for a pen. 
Related Reading: Making The Real Estate Buyer Agency Agreement a Must 
Related Reading: Why Signing The Buyer Agency Agreement Can Seem Scary To Buyers 
FICTION FIVE: You have to exactly what to price the home at during the listing conversation
FACT:  There are simply too many factors to ever be able to nail down a price to suggest to your homeowners, nor is it your job to do so. Your job is to present options and coach sellers based on their goals and commitments. The way I present price to homeowners is not instinctive in the way that I can take an address, bedrooms, and bathrooms and tell you roughly what the house is worth. My job as a marketing agent is to suggest a price range and, depending on if that home needs work, or needs to sell quickly, then go on the lower side of the range. If the house is in beautiful shape and the buyers have plenty of time to sell, then I'll move to the higher end of the range. The key point is that it's a range. There are several factors that will affect how the home is priced, so using comps and having this discussion with the homeowners will help you narrow it down. 
Related Reading: Use a Price Range When Coaching Real Estate Buyers 
FICTION SIX: If you aren't using Tech Tools during Listing Appointments, you will not get hired
FACT: The biggest lesson was this, "Leave nothing to chance." Murphy's Law states, "Anything that can go wrong will go wrong." Now, when I speak at seminars or to clients, I bring all my own equipment — my projector, microphone, etc. If suddenly there is some sort of compatibility issue, it's not a problem because I know how my stuff works. There are agents out there who use a lot of tech gadgets, and it may be that some potential clients are so awed by it that they are anxious to sign a Buyer Agency Agreement, but if you aren't a super-tech person, don't feel like you should be. I consider myself a pretty tech-savvy guy, but I personally still use the printed pages in a binder while on a FSBO appointment. There is something about flipping pages that engages people. It is also easier to jump from page 5 to page 10, then back to page 6, or maybe even page 15. A PowerPoint presentation doesn't let you jump around, you have to go through every slide. It can make your conversation more difficult and even a little uncomfortable. It's the distinction between a listing "presentation" versus a listing "conversation". I'm going to let you in on a little secret…clients don't decide to list with your PowerPoint presentation, computer, or pretty slides. They list with YOU. 
Related Reading: To Tech or Not to Tech on Your Listing Appointments 
FICTION SEVEN: All Real Estate Coaching is too expensive, especially for brand-new real estate agents
FACT: If you google "Real Estate Coaching", you will get 2,100,000,000 hits in the search results. There are a LOT of real estate coaches out there! Some coaching programs START at nearly $800 a month but can be well over $1000. PER MONTH. However, there are quality coaching programs for a lot less as well. The average price for real estate coaching is $400-$500 a month, and yes, it can be a lot of money, especially when you are struggling to bring money in already. This is why our Power Program® is priced for affordability, $47 a month – not $400, especially with the needs of brand-new agents in mind. At the end of the day, the best coaching program is the one you are going to use and get the most out of. When considering a coaching program, ask yourself the following questions: What does each program offer specifically? Has it helped you grow your business? Does the company's ideology match your own ideology? Most importantly, do you feel the coaching program is worth what you are paying for it? Agents sign up with coaching programs because they are struggling in their business, so finding one you love (and are going to use) is the key. 
Related Reading: Best Value Real Estate Agent Training and Coaching for $1.55 a Day 
Related Reading: The Power Program  
Related Reading: Real Estate License Training – How Much Does Real Estate Coaching Cost? 
FICTION EIGHT: If I do a lot of work for free, my client will reciprocate and hire me.
FACT: When you are trying to win a client, it can be very tempting to do a lot of work for free with the belief that they will see our value and hire us. I often say, as agents, we are here to serve, not sell, but that doesn't mean let ourselves be taken advantage of. It doesn't mean that we work for free. How often have we learned the painful lesson of taking clients out to look at 20 houses only to have them buy from someone else because we didn't insist on a Buyer Agency Agreement? There need to be healthy boundaries and expectations so that all parties are happy and everyone has the right expectations. If you find yourself crossing that professional line with your buyers or sellers, that will become a problem for any client relationship you have with them in the future. Keeping the relationship professional is important, though failing to do this is a trap agents can fall into. We want to be helpful, and there is this idea of reciprocity — the seller will list with us because of how helpful we are. Unfortunately, the opposite is usually true — how can we expect them to value our time and efforts if we don't even value them? 
Related Reading: Setting Boundaries: Serving Does Not Equal Servant 
Calling all Real Estate Agents!
Are you ready to start taking things to the Next Level®? If you don't already know what you need to do to get to your next level, we can help!  
POWER AGENTS®, for more strategies for targeting your chosen niche, check out the amazing content in the Time & Money Management tab in the Classroom.  Whether you need a boost of confidence or empowering dialogues, Darryl will help you get the skills you need to be the go-to agent for the buyers and sellers in your farm area. 
"I have been a POWER AGENT® for years. I have had so much encouragement, training, and support. I encourage you to not only become a power agent but spend time on the coaching calls.  You won't regret it." – Lori Click, POWER AGENT® 
Not yet a POWER AGENT®? Did you know that for LESS than the cost of a Starbucks coffee, you can have access to hundreds of marketing, prospecting, and objection handling tools – live weekly coaching, podcasts, webinars, and more?  
---

Get the latest real estate training tips delivered to your inbox!
Start your POWER AGENT®  trial and have total access to every tool we have including dialogues, real estate scripts, training tips, webinars on-demand, eGuides, and marketing tools for just $5. 
Contact our team today to sign up or get the answers you need: (800) 395-3905!