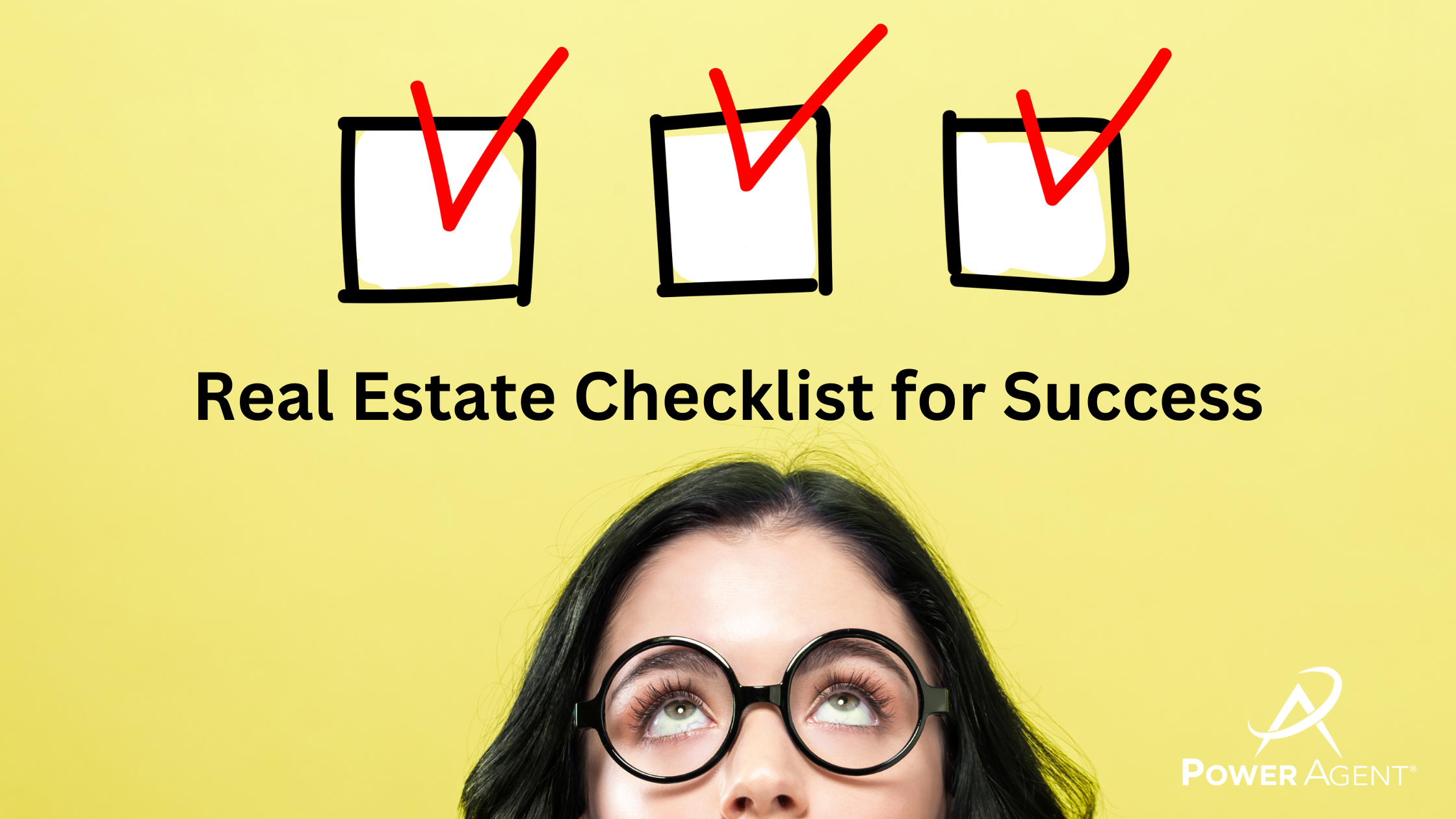 January 8, 2023
Real Estate Agent Checklist for 2023 Success  
Looking to up your real estate game and take your career to the next level in 2023? We've got covered with a real estate checklist for success.
To help you achieve success this year, we've created an essential real estate checklist – an outline of key tasks and activities that all successful agents should focus on throughout the year. Using these points, you can position yourself for long-term growth and increased profits.  
Here is your checklist of strategies to consider incorporating into your business in order to achieve success in 2023: 
Establish clear goals and objectives for the year. This will help guide your actions and keep you on track.

Break down your larger goals with milestones

to aim for on a weekly or monthly basis to make that lofty goal more manageable.

 

Develop a strong online presence. This includes having a professional website and being active on social media platforms,

like engaging video content

.

 

Stay up-to-date on industry trends and changes. This can help you better serve your clients and stay ahead of the competition.

 

Nurture relationships with past clients and seek out new leads. Building a strong network of clients and contacts can lead to more business.

 

Focus on delivering excellent customer service. This includes being responsive, attentive, and going above and beyond for your clients.

 

Invest in your own education and professional development. This can include taking courses, attending industry events such as our Next Level Real Estate Training Event, and staying current on real estate laws and regulations.

 

Stay organized and manage your time effectively. This will help you stay on top of your workload and ensure that you are able to meet deadlines.

 

Stay positive and motivated. Success in the real estate industry can take time and can involve setbacks. It is important to stay focused and keep a positive attitude.

 
You're now equipped with a checklist for 2023, putting your success within reach. It's time to take action and start putting your plan into motion. With a good strategy in place, you can ensure that this year will be your best yet. There's no limit to what you can achieve this coming year if you remain focused and determined. Take bold steps and work hard to make those goals a reality—you never know where it will take you! 2023 is yours to conquer, so get ready for an amazing year filled with abundance, prosperity, and success. 
Related reading: How to Achieve Your Real Estate Goals 
Calling All Real Estate Agents!   
Are you ready to start taking things to the Next Level®? We have the tips, tricks, and tools you need to find success…at any age!   
POWER AGENTS®, you can check out the Time & Money Management tab in the Classroom for tips, tricks, and tools to help you with your time and self-management needs! Whether you need inspiration, motivation, or validation, we have it!   
Never Miss a POWER AGENT® Training Event Again! Click here to subscribe to our BRAND NEW Calendar feature! Training, brainstorming sessions, and top agent interviews will be automatically added to your calendar, so you never miss out.    
---

Get the latest real estate training tips delivered to your inbox!
Not yet a POWER AGENT®? Did you know that for LESS than the cost of a Starbucks coffee, you can access hundreds of marketing, prospecting, and objection-handling tools – live weekly coaching, podcasts, webinars, and more?      
Start your POWER AGENT® trial and have total access to every tool we have, including letters, dialogues, training tips, webinars on demand, e-Guides, and marketing tools, for just $5.     
Contact our team today to sign up or get the answers you need: 631-929-5555!